More Hotel Information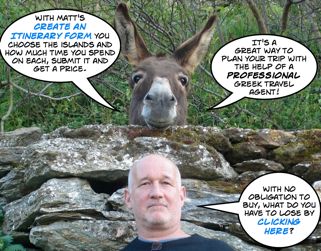 Confused? Overwhelmed? Want me to help you find a hotel? See my Hotel Booking Assistance Page

See Matt Barrett's Athens Survival Guide for more information on hotels and booking. (Click here to get right to hotels page)
The islands of Aegina, Angistri and Poros are close enough to Athens so that you can stay there and do a day trip into the city and be home in time for a swim before dinner. Agia Marina in Aegina is less than half an hour from Pireaus by Flying Dolphin. So if you don't think you want to be in the city but you still want to see the city be sure to see Hotels in the Saronic Islands. Check also Corinth and Isthmia in the Peloponessos section which is only about an hour away from Athens. You can even stay on the island of Kea and do daytrips into Athens. It's an hour ferry ride to Lavrion and then an hour by car or taxi or an hour and a half by bus to Athens. You can even see Athens from Hydra if you use the Flying Dolphins or highspeed catamaras but it is not something you will want to do every day because it gets expensive.
You can e-mail me for specific hotel needs and recommendations. If you are looking for hotels in central Athens click here
For transportation to your hotel from the airport I recommend George the Famous Taxi Driver of Athens who can also take you into the city for day tours as well as day-tours and overnight trips around the mainland.