Eden Beach Resort Hotel is the ideal choice for all leisure, business and corporate travellers. The complex, ideally complementing its natural environment, consists of two 4-star hotel units, and 240 panoramically appointed hotel rooms. The hotel was renovated in 2004 and was an official member of the hospitality network of the Athens Olympic Games.
The Hotel offers:
• The "seasons" main restaurant
• "La piscine" restaurant - bar
• The beach restaurant - bar
• Spacious lounges
• discotheque
• Boutique
• Children's playground
• Conference & meeting facilities
• Outdoor parking facility
• Sporting facilities
The Beach
The secluded bay of eden beach, has been awarded with the "blue flag" for seven consecutive years, The award reflects the cleanliness of the waters and the facilities of the beach, which include :
• The famous Eden snack bar (renovated in 2005)
• Changing cabins & showers,
• Sun beds & parasols (extra charge)
• Lifeguard & First aid
Double Room Features
• Satellite TV
• Mini refrigerator
• Central A/C – heating
• Direct dial telephone with automated wake up calls and voice mail
• Electric shaver outlets 220 volts
• Balcony
• Pay TV with information channels
• Internet connection
• Safe (large laptop size)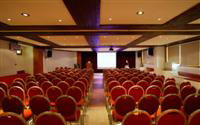 Conference Facilities
The conference center of the hotel was renovated in 2004. It features all the essential equipment and services to satisfy corporate meeting, conferences and product presentations. The town of Anavissos is known for its many good seafood restaurants that are right on the water. There is also several kilometers of beach and lots of shops in the town. Athens is just an hour away by bus or taxi.