The Divani Apollon Palace & Spa with its spectacular beachfront setting in the area of Vouliagmeni, is ideal not only for business or leisure but also promotes the complete well being. Located in the most exclusive area of the Athenian Riviera, just 19 kilometers from "Eleftherios Venizelos" International Airport and 18 kilometers from the city centre, the Divani Apollon Palace & Spa is the ideal base from where to explore Athens. This luxurious hotel, the first in Athens to become a member of the Leading Hotels of the World, is unique in Greece for combining superb location, deluxe accommodation, excellent services, extensive conference facilities, gourmet cuisine and a state-of-art Spa & Thalassotherapy Centre. For those who wish to enjoy a unique environment, luxury stay, and the possibility to enjoy health and beauty treatments, the Divani Apollon Palace & Spa is the choice location.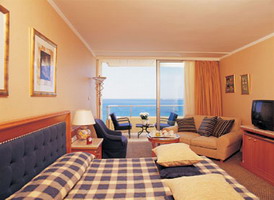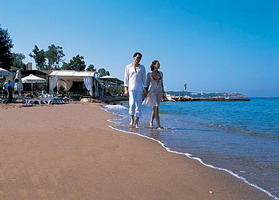 The hotel boasts 286 luxurious rooms including 39 executive rooms, 6 suites and 1 Presidential suite. All rooms are equipped with furnished balconies and offer a panoramic view of the sea. In room facilities include: satellite TV, in-house movies, radio, work desk, modem facilities, ISDN lines, direct dial telephone, voice mail, mini-bar, in room safe, hair dryer, magnifying mirror and bathrobes. Non smoking rooms are also available.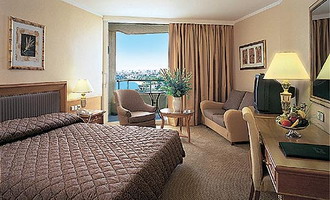 Our superior bedrooms are 30 sq.m. with designer fabrics tastefully matched with the light oak furniture, selective paintings and luxurious bathrooms (with telephone extensions) only to add to the Hotel's timeless luxury and comfort.

Our executive rooms are 40 sq.m. and offer additional features including complimentary tea/coffee making facility, mini-stereo, weight scales and Bulgari amenities.

The Deluxe suites are 70 sq.m. and designed along simple lines. Exclusive Italian furniture, selected antiques, fireplaces, separate seating area and wooden floors are key factors in our décor. Suites also offer in-room fax and Bulgari amenities. Music from the CD stereo allows you to set the mood you desire.

Our Presidential Suite is 93 sq.m. and offers a dining area for 6 persons, a comfortable seating area with fireplace, mini-stereo, a complete working desk with fax and stationary, two marble bathrooms and Bulgari amenities.

Hotel Services
24 hours Room Service
Business Centre
Luggage Storage Room
Night turn down service
Shoe shine service
Garage car parking for 250 vehicles
Doctor on call
Retail Shops

Shuttle bus from hotel: To Glyfada Shopping Centre/To Syntagma Square
Fitness Centre
Two Saunas
Outdoor tennis court with flood lighting
Children's playground
Glyfada golf - 18hole course, 3kms drive
Vouliagmeni Marina, 2kms drive
Restaurants and Bars

The Mediterranean cuisine blends local specialties with fresh seafood and the superb selection of fine wines will please even the most demanding guest. Regardless the length of your stay or your demanding schedule, take some time to discover the delights in our dining options.

The Divani Apollon Palace & Spa has four restaurants to indulge your taste:
"Anemos" is our charming restaurant with its lavish buffets and the attractive terrace. It opens early in the morning and offers the perfect setting for breakfast meetings, lunches and dinners. Here our guests can enjoy the breathtaking view of the Saronic Gulf.

Mythos of the Sea Restaurant
In our restaurant "Mythos of the Sea" the haute cuisine and the view to Kavouri bay create a unique atmosphere. Located on the beach front of the Hotel has direct access to the bay through a short tunnel under the road. Guests dining on the open air deck can enjoy magnificent view of the Sea.

Atlantis Lounge and Veranda
A casual dining area offering an imaginative mix of a la Carte menus, fresh coffee, afternoon teas, delicious pastries as well as cocktails and drinks served throughout the day. Atlantis Lounge has an outdoor veranda with stunning view of the sea. Adjoining the Atlantis Lounge is the Pelagos Bar where wooden floors and leather sofas create a cosy ambience. A full cocktail-bar to set the mood every evening with live entertainment from October through May.
Meltemi Snack-Bar (Seasonal)
Located at the pool area. Open for lunch till late afternoon. The perfect setting for Greek specialities, snacks, ice creams, thirst-quenching cocktails and soft drinks while enjoying the sun and the pool.
Beach Bar and Pool Bar (Seasonal)
Both are located adjacent to the Hotel's private beach and pool respectively and offer you cool drinks and light snacks while you enjoy the sun and blue waters.

Recreation Includes:
New 3,500 m˛ Spa & Thalassotherapy Centre
Private Sandy Beach
Free umbrellas, sun beds and chairs
Water sports facilities
Outdoor Pool A: 25m x 13m sea water with jacuzzi
Outdoor Pool B: 22m x 16m, Fresh Water with Jacuzzi
Outdoor Children Pool : 11m x 4,5m, Fresh Water
Heated Indoor Pool : 10m x 5m, Fresh Water
Fitness Centre
Two saunas
Extensive Gardens
Outdoor tennis court with flood lighting
Children's playground
Jogging route outside the Hotel
Glyfada golf - 18hole course, 3kms drive

---
THE THALASSOTHERAPY

a balance of body and spirit
The traditions of wellness and good life are conceived and revived at Divani Athens Spa & Thalasso Centre. On a privileged site next to the sea, the centre, offers thalassotherapy programs combined with a selection of the best beauty care and fitness treatments.Thalassotherapy is the use of the marine environment's beneficial effects under medical supervision for preventative and care purposes. The marine climate, seawater, sea mud, seaweed and all of the sea's other treasures are used in our care treatments to harmoniously rebalance body and mind. For those who wish to combine their business or holiday travel with health treatments and go home fitter, healthier, more toned, looking younger or free from stress, the Divani Apollon Palace and Spa is the choice location. Idyllic gardens, golden beach, two outdoor swimming pools, tennis courts and spacious sundecks, create a unique environment.
THE FACILITIES
a sense of space and style
The new Divani Athens Spa & Thalasso Centre is the only facility offering Thalassotherapy in the Athens region and one of Europe's most recent and luxurious thalassotherapy centres. It is endowed with the most sophisticated care treatment equipment and its level of organization meets the strictest quality criteria. With a surface area of 3,500 m˛, the centre offers you a 225 m˛ indoor sea water pool, Roman baths comprising of 2 saunas, 2 Turkish baths, 2 exfoliation rooms and 10 additional rooms providing the most modern marine care equipment. The Divani Athens Spa & Thalasso offers 6 massage and body care treatment areas as well as a beauty centre and beauty shop. For those requiring to keep fit during their relaxation and revitalization sessions, the centre provides a large fitness room with a weights area,
a gym area and an aerobics room, all supervised by experienced trainers.
THE CARE TREATMENTS
endless choices... the ultimate revitalization
Our mission is one: your personal comfort and satisfaction. The choices endless... The Divani Athens Spa & Thalasso Centre offers a choice of 6 different proposals capturing a wide range of revitalization and wellness programs ensuring to meet and exceed your expectations. The centre offers its visitors programs for periods of one week (6-day programs) a weekend (3-day programs), one day (1- day program with 4 care treatments) and even a customized program (30 different care treatments offered). In addition to all care treatments, guests have free access to all of the centre's facilities. A range of special care treatment programs and a choice of services are also available for business executives who would like to enjoy unique relaxing treatments while on a business trip.
There are 6 different themes for your courses of treatment at the Divani Athens Spa&Thalasso Centre:
ATHENIAN THALASSOTHERAPY INITIATION
A very effective program for men and women offering you
an induction to the unique benefits of Thalassotherapy.
APOLLON SLIMMING PROGRAM
An effective but gentle slimming program
APOLLON ANTI-AGEING PROGRAM:
We cannot stop the passing of time but we can greatly reduce its effects on your skin
thanks to this well-targeted program.
THE ATTICA SERENITY PROGRAM:
Take a few days to put a stop to the negative effects of stress on your body.
Learn how to control your stress better.
THE APOLLON BEAUTY PROGRAM:
A program exclusively dedicated to your beauty, for both men and women.
MASSAGES OF THE WORLD:
Discover the hundred and one facets of massage and body care treatments
practiced in different places throughout the world.

THE SERVICES
philosophy of personalized service
The centre offers its services to all those who would like to have a real course of thalassotherapy treatment, to those who wish to just benefit from treatments at a top-quality Spa, but above all to those seeking for relaxation, revitalization and pleasure... The Divani Athens Spa & Thalasso is run by a team of professionals who are available at any time to provide personalized service and consultation while ensuring visitors' comfort with concern for hygiene and safety. Our seawater care treatments provide complete relaxation and a gentle recovery, which allows us to plan progressive, customized programs suitable for every individual. A medical team is present on-site to offer consultation and guidance yet follow progress during your different care treatment programs. The philosophy of the Divani Athens Spa & Thalasso strives to complement your personal tranquility and comfort.