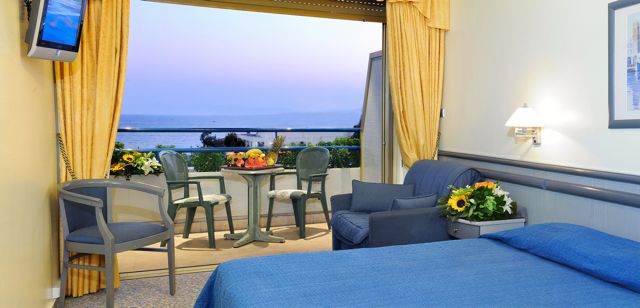 The fully air-conditioned " A " class EMMANTINA HOTEL is situated in the fashionable beach resort of Glyfada, often referred to as the " Athenian Riviera ", only 15 kilometers from the heart of the city of Athens. Our excellent location allows our guests to commute easily to unique archaeological sites, historical buildings, museums and cathedrals. The beach is only 200 meters away. Glyfada Square, with it's modern shopping and sports centers, its lively Greek tavernas, marinas and bustling night life, is only a few minutes walk and provides our guests with infinite pastime possibilities. The championship, 18-hole international golf course is only 1 kilometer away and is open 365 days a year to challenge you and your handicap.
All guestrooms are carpeted, air-conditioned and sound proofed (double-glazing). The furniture is of outstanding quality, modern and comfortable. Each room has an individual inviting balcony that overlooks the Saronic Gulf. The mains supply is 220-volts. Each of our air-conditioned, soundproof guestrooms is comfortably furnished and planned to meet the requirements of even the most demanding traveller. Color television featuring satellite channels, in-house video and two cable channels, telephone (direct dialing), radio, private bathroom and an inviting balcony that overlooks the Saronic Gulf are some of our standard features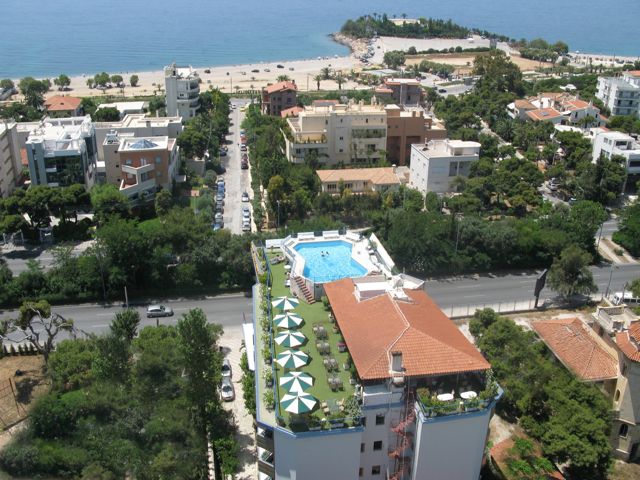 Our elegant restaurant is open for breakfast, lunch and dinner. Enriched buffet breakfast is served. English and American breakfasts are also available. The " A La Carte Menu " features many appetizing Greek and International dishes. On our extended Wine List you will find a large selection of the finest Greek wines. Our Room Service catalogue includes a variety of light snacks and drinks.

The cocktail lounge is a popular meeting place for our guests and local business people. The selected soft background music creates an intimate atmosphere, suitable for conversation. Our professional bartender will mix the exotic cocktail or traditional drink of your choice.

Our banqueting room is designed to cater for all special occasions such as engagement and wedding receptions, club diners and dances, birthday and children's parties, The banqueting manager will ensure that your specific orders and requests are fulfilled and will make your special occasion a lifetime memory.

Our vast experience in organizing seminars, together with the latest in audio-visual equipment will guarantee the success of your meeting. To accompany such events our catering department can provide a large selection of light lunches and refreshments.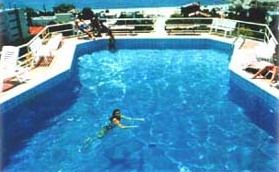 Open in the summer until the early hours of the morning, the hotel's green roof garden with a sparkling swimming pool is a sun worshipper's paradise. Spend a leisurely day and enjoy our selection of ice creams and light snacks or quench your thirst with a fruit juice or drink of your choice from our poolside " Bikini Bar ". From here you can enjoy the breath-taking, panoramic view of the Apollo Coast and the " Athenian Riviera ", indulge in a game of billiards, cards or have fun with the large variety of amusement machines and games that are available.

Our hotel provides many other services such as an express laundry service, the private use of the hotel's sauna and tourist shop.

With its modern facilities and excellent service, the exclusive EMMANTINA offers friendly, relaxing atmosphere which guarantees its guests a memorable stay.