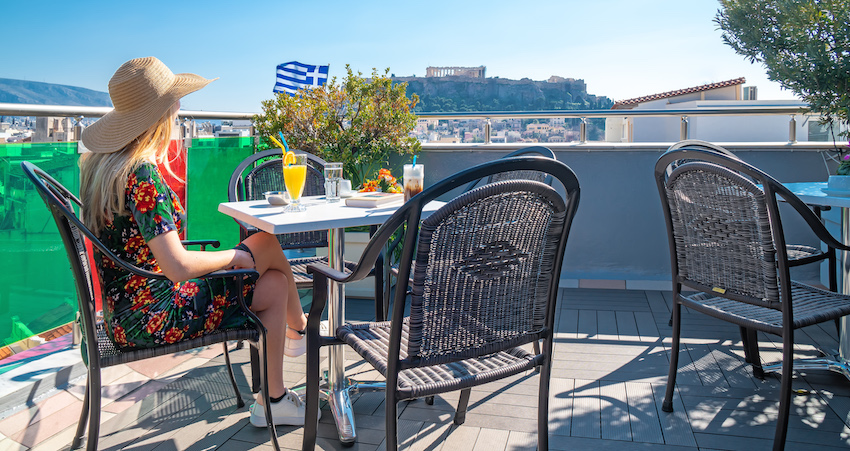 A home away from home in the heart of Athens. An inexpensive hotel with a million-dollar View: The Best Economy Hotel in Athens- Matt Barrett
The Hotel Attalos is more than a comfortable, 3-Star hotel located in the center of Athens. It's a place to call home. And it's a home with a view like few other economy hotels in Athens have. In addition to the Attalos hotel's modern facilities including 80 rooms, all with air-conditioning, cable tv, a secure safe, hair dryer and private bath; a roof garden, with a fantastic view of the Acropolis, Lycabetus hill and a panorama of Athens; Hotel Attalos is protected with smoke alarms, soundproofed windows guarantee for undisturbed night's sleep, direct telephone, cozy bar, TV and breakfast rooms. The Hotel Attalos family management offer friendly services which make your stay more pleasant. For instance, you can leave luggage at the hotel and make side trips to the islands, traveling lightly by boat or plane.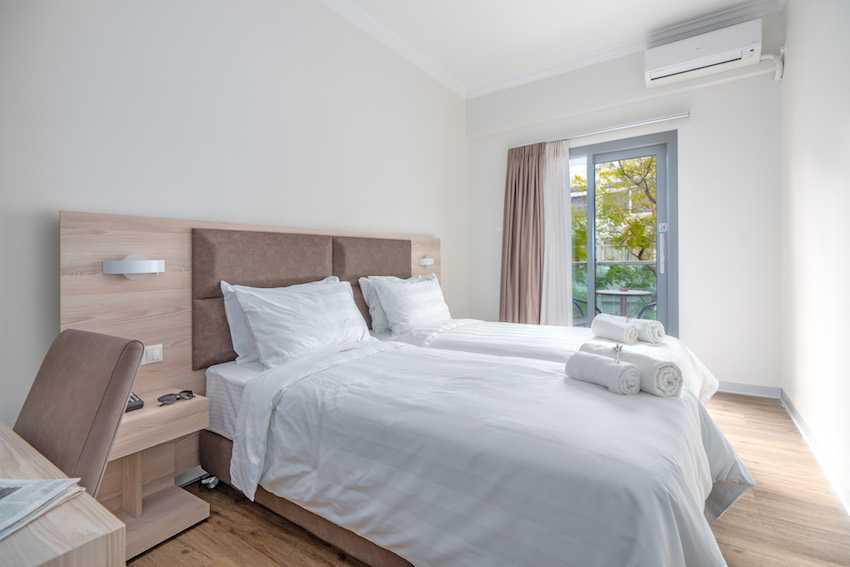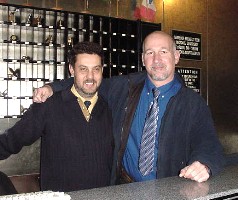 The staff at the Hotel Attalos is at your service to provide any information you need including directions to banks, shopping, the post office, the flea market, Constitution Square, the Acropolis and the Athens' many museums all within walking distance. And, after a day of sightseeing or relaxing on Athen's beaches, we will suggest some Greek taverns that are off the beaten path. The difference at the Attalos is attitude. We offer what we feel is the best of Greece: simplicity, hospitality, a warm, informal atmosphere inside the hotel - and cool evenings, on the roof garden, relaxing with a glass of ouzo or your favourite drink, with the rhythm of Athens at your feet.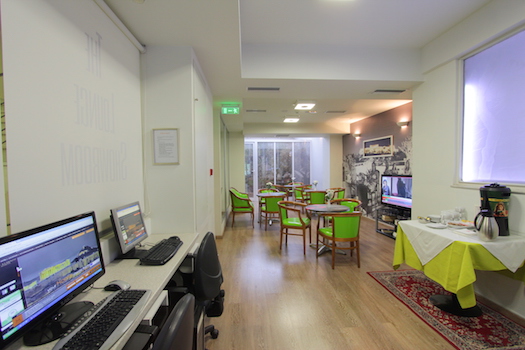 The Attalos has free wireless internet throughout the hotel for those with laptops, and if you don't want to bring your laptop to Greece you don't have to. In the second floor lounge there are computers for guests use, with high-speed DSL connections also free of charge. Just think about it. You could book a few nights here at the Attalos and then book the rest of your trip on-line from the hotel or research all the places you plan to visit. And once you have your trip figured out what could be better than having a quiet drink at our rooftop garden bar before going out to one of the many neighborhood restaurants. With views like these you may not want to leave. We have a complete bar with snacks and even ice-cream for the kids and an excellent selection of beer, ouzo and wine and other drinks too.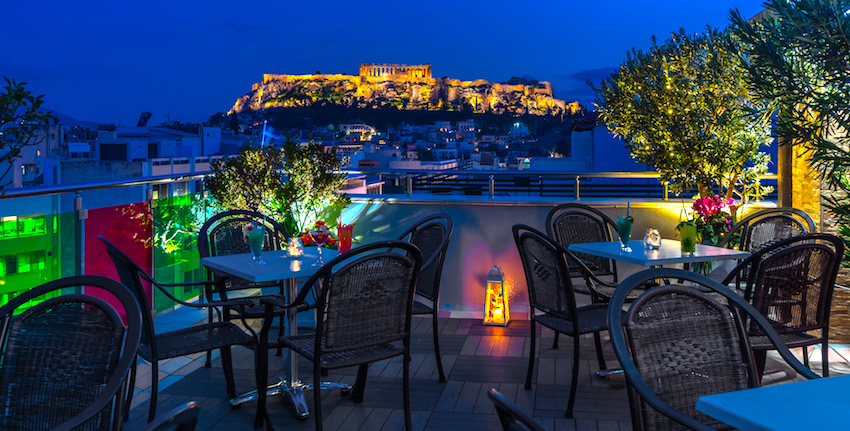 The Hotel Attalos is located on Athinas Street 2 blocks from the Central Market, two blocks from the Monastiraki Flea Market and two blocks from the Monastiraki Metro Station so you can easily get to Pireaus and catch the ferry to the islands or get to or from the airport. The Acropolis is a 15 minute walk and the neighborhood of Psiri, famous for its nightlife, restaurants and outdoor cafes is right around the corner. In ten minutes walk you can be in the middle of the Plaka. You can't find a better location in Athens. The Attalos was picked by Matt Barrett's Greece Travel Guide as the best economy hotel in Athens and since its recent upgrade is even better and for the same price.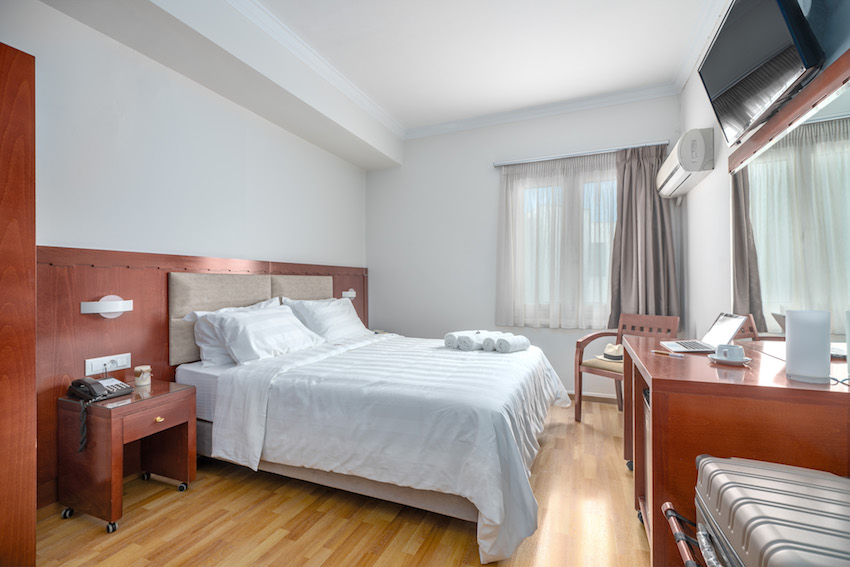 The Attalos Hotel has been recommended by National Geographic Traveler and Frommers as excellent value lodging and is praised by just about every guidebook as the best in its category including Tripadvisor and Expedia. (Even Rick Steves stays here). The Hotel Attalos is the hotel of choice for Greco-files, travel writers and travel agents too. It is also the most popular economy hotel in Athens so if you want to stay here book as soon as you have your travel dates. You won't find cheaper rates than the ones on this site.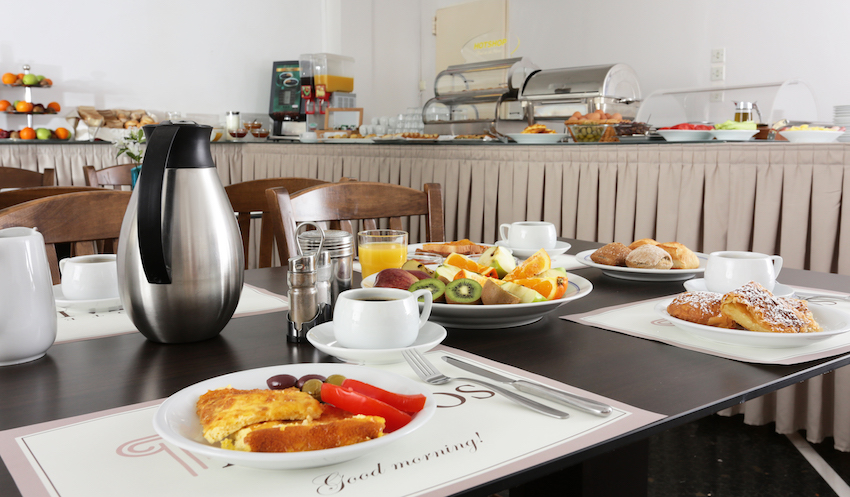 The Breakfast is 9 euros extra per person and it has been certified as "Greek Breakfast" by the Hellenic Hotels Chamber. We offer a variety of coffee /tea-herbs/chocolate, juices, milk, Greek yoghurt, greek honey, variety of greek marmalades, butter, cakes, variety of breads, cereals, fresh season fruits, fruit compotes, variety of cheese, turkey and salami, eggs (omelet and boiled ), feta cheese , tomato, cucumber and olives, butter and chocolate croissants, greek cheese pie and greek spinach-cheese pie. Also, we offer Greek bougatsa with cream, variety of Greek traditional desserts and Greek halvah. We use very good Jacobs gourmet coffee.
Attalos Hotel Booking Information
To check availability Please use this Booking Request form
Important! The Hotel Attalos has become very popular and if you wait, you won't find a room there. BOOK EARLY AND GET AN 10% DISCOUNT!
(This special discount cannot be combined with any other offer.)
For Booking Questions and More Info Click Here

For those who prefer it here is a link to the Attalos Booking.com page where you can see more photos, maps and guest reviews. If they show no availability come back here to book because there may be availability here since Bookingdotcom has a limited number of rooms.
For Groups More Than 20 Persons, we offer an extra Discount! Just ask
If the Hotel Attalos is full, as it often is during the summer, I recommend these hotels which are nearby and similar. So if you can't book the Attalos come back to this page and see these hotels.