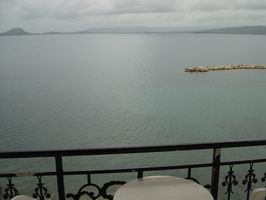 Hotel Miramare is a 3 star hotel situated in the Bay of Navarino in Pylos.
The hotel has 29 rooms equipped with central heating, A/C, TV, radio, direct dial telephone, mini fridge and hairdryer. All rooms have a view of the famous Bay of Navarino. There is a small beach right in front of the hotel and a cafe where you can watch the sunset over the islands of the bay. The hotel lobby is decorated with photos and paintings of ships as the proprietor Mr Nikos Houmas is a retired sea-captain and indeed the hotel is kept ship-shape.
Other facilities include : Bar, restaurant, cafeteria, garden, TV lounge, room service, laundry, parking. The hotel is a two minute walk from the center of town and the beautiful tree shaded platia as well as all the excellent restaurants in the area. It is also right below the famous castle.