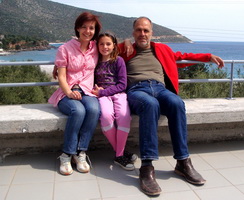 Kyfanta is located in the secluded town of Kyparissi on the coast of Laconia. Though difficult to reach it is an unspoiled coastal village filled with farms, olive trees, several beautiful beaches and a handful of restaurants. The apartments are owned by Yannis and Esther who also own the small cafe-bar in the garden. Kyparissi is the kind of place you only tell your friends about which is why this hotel is hidden in this obscure part of my website. The hotel has beautiful rooms all with hot water and air-conditioning. There is 1 double bed and 1 single bed in each room. The rooms also have a kitchen. There is parking, and space for children to play, a coffee bar and a very beautiful view of one of the nicest beaches in Greece which is less than a one minute walk from the hotel. Yannis and Esther are two of the kindest people you will meet and will make your stay in Kyparissi a happy one and their daughter Korilea is an added asset, a playmate for your children. Esther speaks fluent English and Spanish and Yannis understands English though is a bit shy about speaking it. They have a library of books left behind, most of them in English, that may be one of the largest of any hotel in the Peloponessos.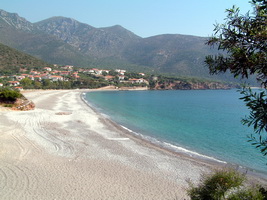 You will either need a rental car or a taxi transfer to Kyparissi since the Flying Dolphin is unreliable and the bus is complicated. But once you get here you will not want to leave. There are miles and miles of trails through the olive groves and into the hills to abandoned villages, solitary white churches and hidden coves that you will have all to yourself. There are several beaches within walking distance, all of them among the best in Greece. With very little automobile traffic the area is a paradise for families with children. There are three villages within walking distance of each other. For those who like snorkling you won't find better. During Meltemi the body-surfing on the beach is amazing, and those who prefer calmer waters can walk twenty minutes through the olive groves to the sheltered beaches by the church of Agios Nicholaos.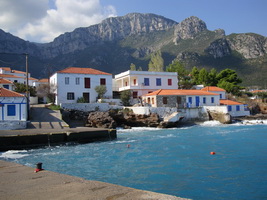 Kyparissi has several excellent restaurants all serving classic Greek-Peloponessos foods and local specialties, fresh fish, local meats and vegetables, and their olives and olive oil which may be the best in Greece. Trocadero on the seafront serves pizza too and is owned by Mr Notos who retired in Kyparissi after selling his restaurant in Montreal. He makes amazing omelets, and some say the best breakfasts in Greece. There are several cafe bars and there is nightlife though not the crazy Greek island variety and in August the small club at the far end of the bay has live rembetika music every night. In the evening people walk to the small dock where there is a cafe-bar overlooking the sea. In the summer English is the language most heard on the street as those who migrated to the US, Canada and Australia, return as they do every summer, most or all with their children and grandchildren. In the fall and winter it is quiet but the mild climate keeps it comfortable and there are enough people in the villages to keep most of the restaurants and cafes open year round. In the spring when the wildflowers are in bloom and everything is green, Kyparissi is like the Garden of Eden. If you are a nature lover you won't find more nature than you will here. Day trips are possible to the island of Elafonissos, Monemvasia, the Byzantine town of Geraki and the lagoon of Geraka as well as the deserted town of Kapsala, home of the famous Mavromichalis clan, heroes of the Greek war for Independence who were framed for the murder of Greece's first prime minister and disappeared into the mountains which are among the most dramatic in the Peloponessos, in fact they resemble the pine covered Rocky Mountains of Colorado.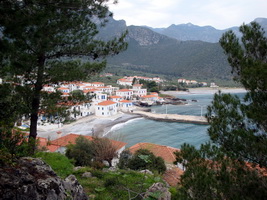 It is also the ancestral village of my family and has a history that goes back thousands of years when it was the ancient Kyfanta a sanctuary of Asclepius. If you are looking for a place to escape to that you will dream about for the rest of your life then this is is. But remember that it is the difficulty in getting here that has kept Kyparissi from becoming spoiled. The 5 hour drive from Athens is one thing but the last half hour is a narrow road on the edge of a 1000 foot cliff that has even terrified one of my Athenian taxi driver friends. You need to be a good driver to come here and for those passengers with a fear of heights, enough blindfolds to go around may not be a bad idea. But if you are adventerous it is worth it. You can also get here by water taxi from Spetses for about 200 euros each way, per trip, not per person. This can be arranged through Esther. A taxi will cost at least that and can either be arranged by the hotel or booked through George the Famous Taxi Driver. Rental cars are available from Swift Rent-a-Car who will actually drive you out of Athens so at least you will only be stressed during the last part of the trip rather than the beginning too.
For those of you who make the journey you will find it worth the trip. Kyparissi was featured in the book "The Most Beautiful Villages of Greece" and may very well be The Most beautiful village in Greece. You need to stay here at least five days to a week though by the end you will want to stay longer. If you need more convincing you can click on any of the photos on this page and see them full size before clicking here to contact Yannis and Esther.