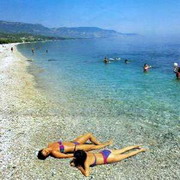 Iliochari hotel situated amongst its own extensive grounds and gardens is perfect for everyone. For families, couples in search of a true Greek holiday resort, or weary travellers seeking a rejuvenating escape. The Iliochari Hotel by the seaside village of Agii Theodori and located 65 kilometres West of Athens is your gateway to exploring the near by areas of Loutraki, Nafplion, and Corinth.
Hotel Iliocharis in Agii Theodori Korinthias, having gone through renovation in 2004, now offering a total of 150 rooms and suites.
Rooms and Suites at the Iliochari hotel are very comfortable, offer all modern amenities and all have a balcony, most overlooking the swimming pool and the extensive hotel gardens. Some rooms at the Iliochari have views of the Saronic Gulf sea.
The color scheme used in the Iliochari rooms is of subtle and light colors in order to provide the ideal environment for a relaxed vacation.
The hotel Iliochari offers different types of rooms and suites to suit all requirements. There are 5 single rooms, 47 double rooms, 2 triple rooms and 96 suites.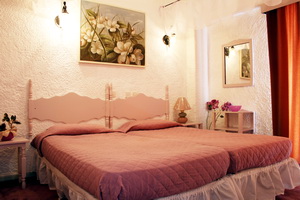 Suites at the Iliochari hotel come in 2 different types. The Standard Suites consisting of 2 rooms, the bedroom and the living room area. The Family Suites which also consist of 2 rooms, the bedroom and a larger living room with 2 additional beds.
In one of the Iliochari hotel buildings the Falco building there are also Family Maisonettes for larger families.
Hotel Iliochari is also the perfect base for visiting Athens and for exploring the Peloponnese with ancient Mycenae, the Epidavros amphitheatre, the Corinth Canal and much more. The center of Agii Theodori village is just 1000 meters away. By Agii Theodori beach there are courts for beach volley, tennis, basketball, and a 6 X 6 football court.
Facilities near by the Hotel Iliochari: Within a short walking distance from the Iliochari hotel one can find a bank and money exchange, a pharmacy, book and newspaper store, a super market, a bakery, car and motorbike rental office, restaurants and bars.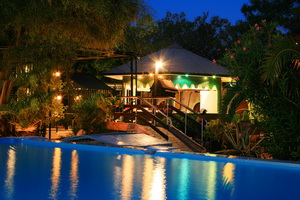 Iliochari restaurants and bars: Iliochari Hotel has indoor air conditioned restaurants as well as an outdoor grill - restaurant situated by the swimming pool. The music bar with its water fall, and the coffee shop Paradise serve drinks, refreshments, sweets and ice cream for your pleasure. The large swimming pool provides sun loungers and umbrellas for the hotel Iliochari guests. The swimming pool area surrounded by the hotels gardens, is an ideal place to soak up the sun during the day and to relax with a long drink from the bar or even a meal or snack from the restaurant.
Events program: Hotel Iliochari organizes special evenings for its guests such as Greek nights, dancing and party events.