'THE PENINSULA' at
PORTO ELOUNDA DE LUXE RESORT
is the most modern luxury hotel in Elounda with sweeping views of Elounda and Mirabello Bay. Originally built as an exclusive annex to the
PORTO ELOUNDA DE LUXE RESORT
it has now been extended to a fully autonomous complex which features 24 elegantly furnished double-storey suites, 1 double-storey superior suite, 7 sea-front Presidential one and two bedroom suites and a Grand suite right on the sea front.
In the double -storey suites all bedrooms are on the top floor with a balcony, some capped by domes that admit natural light, and the living rooms on the lower floor have direct access to shared heated seawater swimming pools. There are marble-tiled bathrooms on both levels.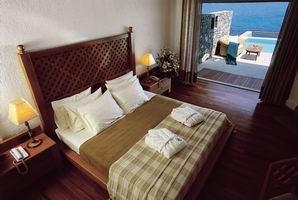 The Presidential suites are of similar design but have beautiful marble and teak floors and their living rooms are equipped with a PC-ready study and high-fidelity electronics. They boast a sea-front location with private gardens, a heated seawater pool, a private jetty with seaside sundecks and private access to the sea.
The Grande Suite directly on the sea-front with private jetty and access to the sea offers you a private garden and outdoor heated seawater pool, an indoor private pool with sauna, steam bath and work-out equipment, two bedrooms with en-suite marble tiled bathrooms, a dining area, elevator, personnel quarters with en-suite shower & WC.
Exclusively for guests of the Peninsula, private screenings of films are available at the grand home theatre, designed and built according to THX standards with the latest in digital surround sound.
Also exclusive at the Peninsula is a magnificent small spa, where natural light is admitted through windows at the bottom of the pool above. The facilities at the spa include the gymnasium, sauna and a variety of massage treatments and you receive traditional service from specialised staff at the Turkish Hamam.
Guests at the Peninsula have the privilege of using all the facilities of the PORTO ELOUNDA DE LUXE RESORT which include the 9-hole par-3 golfcourse with golf academy, five shops on the village square of Playiada, the Odysseas Tavern on the waterfront and the Elies a la carte restaurant, the poolside Beach bar, the 'Children's Ark' kid's club, the two tennis courts, a large outdoor pool, the hotel's private sandy beach and a sea-sports centre.