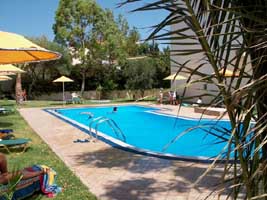 You can find the Calypso Hotel in the small fishing village of Matala, Crete where the local caves became a paradise for the hippies in the 70's. This family run hotel is situated a couple of hundred meters from the beach and the road to the beach is a pleasant walk with a great views of the surrounding countryside.
The Calypso has a total of 45 beds in comfortable rooms, each with air condition, telephone it's own bathroom, balcony and safe box.
At the entrance to the hotel you can find private parking, a bar and a big veranda where breakfast is served. Trees and gardens surround the buildings of the hotel and there is also a large playground with plenty of space for children to play and swimming pool for those who donít wish to visit the beach.
The center of Matala is within walking distance and is where you can find a number of shops, bars and traditional Taverna restaurants serving fresh fish; local wine and the Cretan drink Raki.