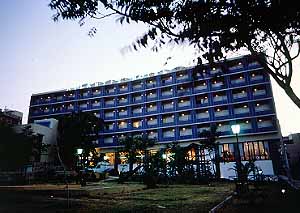 Heraklion, Crete
The Atlantis is a superior first-class hotel, situated close to the archaeological museum and commanding a spectacular view of the harbour.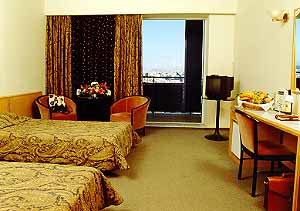 Hotel facilities include a restaurant, bar, swimming pool, roof garden, health studio, sauna, parking, several shops. 24-hour room service and indoor and outdoor pools. All the rooms are heated and fully air conditioned and are equipped with satellite TV, electronic security locks, sound system, direct dial telephone, refridgerator with mini bar, private safe free of charge, while the luxurious bathrooms are equipped even with an additional telephone. Each room has its own veranda. . It is a stylish, luxurious and cosmopolitan A class hotel, with 160 rooms of which 126 are double, 34 single, 1 family suite, 1 executive and 1 presidential suite.

The main airport of Crete (Iraklion) is only 4 Kms away.

The hotel offers superb facilities and friendly service, confortable modern lounges, a roof garden cafeteria with spectacular views of the old harbour, the main AKALI bar and the ARIADNE restaurant, a hairdressing salon, a jewellery and a gift shop.
The hotel houses Iraklion's largest and most luxurious conference center with 1000 meters of well equipped space, featuring rooms that can be adapted to suit your purposes, and can cater for conferences of up to 900 people and receptions or functions of up to 1000 people.

Hotel Booking Information

To book through a recommended Greek travel agency click here. This is recommended if you will need flight or ferry tickets, other hotels, tours, cruises or more assistance

If you just want to book this hotel and won't need the assistance of a professional travel agency click here for booking information, more photos, guest reviews, maps and low rates.