SIRENS Resort is much more than an accessible hotel. In their luxury apartments, you will enjoy comfort combined with all the necessary facilities for any kind of physical disability (ramps, easy access indoor and outdoor, specially designed bathrooms, sea-ramp and sea-wheelchair, special equipment, physiotherapy sessions). Our apartments offer:
Fully furnished bedroom, bathroom, living-room, kitchen and balcony

Ramp entrances

Wide door openings - No steps!

Specially adapted bathrooms equipped with the essentials for disabled users (raised toilet seat, roll-in showers, holding bars, large space for easy movement of the wheelchair, shower seat)

Beds and tables adjustable in height

Large spaces, very convenient for wheelchair users

Electric appliances: kitchen, oven, refrigerator, coffee machine, water boiler

Air-conditioning

Satellite TV

Fireplace
Ramps Provide Easy Wheelchair Access to the Sea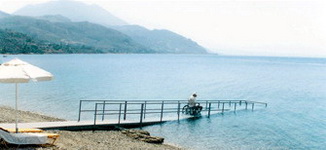 In the outside, specially built ramps provide accessibility in and out of the apartments and lead to the hotel'sbeautiful beach. Beach access is very easy for everyone, with a manual or electric wheelchair. A safety net has been placed around the ramp, creating a "natural swimming pool" for our guests. The net's purpose is to offer a sense of confidence to those who don't feel very confident going out to the open sea. However, it gives a perfect feeling of free-swimming, as the size of the "pool" is more than 20 x 30 meters! For those who don't feel 100% confident swimming into the sea, special life-jackets (for paraplegics and quadriplegics) are provided.
SIRENS Resort is located near the city of Loutraki in an area called Skaloma in central Greece, only 90km away from Athens International Airport. This place combines the rare beauty of the Corinthian Gulf with fast and easy access to and from Athens and the rest of Greece. The location is perfect for excursions to some of the most popular tourist places of Greece, like the city of Athens, the ancient city of Corinth, the famous ancient theatre of Epidaurus, the city of Nafplion, Monemvasia, Mani and also ancient Olympia, Mycenae and Delphi.
Fully Accessable Hotel for Hassle-free Holiday In Loutraki, Greece
SIRENS Resort consists of 4 fully equipped, independent family apartments and 1 group apartment. More specifically, you will find: Wheelchair ramp, Specially equipped bathrooms for easy access for wheelchair users (equipment certified under ISO 9001), Full furnishing (bedroom, livingroom, kitchen), Electric appliances (kitchen, oven, family refrigerator), Basic home eqipment, Air conditioning, TV, Fireplace, Comfortable indoor areas for easy maneuvering of wheelchair. All outdoor areas are designed to ensure accessibility for wheelchair users. More specifically, you will find: Accessible beach, Wheelchair ramp that leads into the sea, Paved pathways for easy access of wheelchairs all around the garden, Outdoor barbeque, and Parking area .
FREE DELIVERY from traditional Greek restaurant!Give your order by phone and enjoy your meals at the comfort and ease of your apartment!
Half board or full board options available.
Please ask us for more information (menus, prices etc)
TOURS WITH ACCESSIBLE MINI-BUS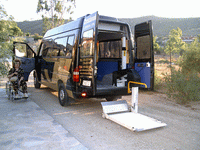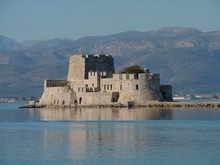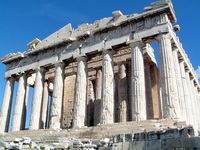 1.One day tour to the Ancient theatre of Epidauros, city of Nafplion and ancient city of Mycenae
In this journey you will discover three well known places in central Greece. You will start by one of the last well conserved ancient theatre at Epidauros. This monument attracts a large number of visitors for its ideal symmetry and beauty, and it is concerned to be the bigger achievement of the ancient Greeks on theatre construction. The theatre still holds a number of performances during the summer. Afterwards, you will take a short visit to the city Mycenae and then you will enjoy the beautiful city of Nafplion, a small sea-side city which used to be the first capital of Greece. In the evening you will return to SIRENS Resort.
Depart at 10 am and return at 6 pm


2. One day tour to Athens, Parthenon, tourist center, Athens archeological museum

Your journey to Greek history will begin with a day tour in Athens, the capital of Greece, one of the most ancient cities of the world. You will experience the modern and ancient city at once, visiting the Parthenon, the most important and characteristic monument of the ancient Greek civilization and one of the seven wonders of the world. You will visit the Acropolis so called the "Sacred Rock" of Athens, a part of the ancient city and the ancient "agora", the market where the ancient Greeks used to spend there time by shopping, discussing and expanding their knowledge in all the known sciences. Then, you will take a visit to the most important archaeological museum in Greece and one of the richest in the world concerning ancient Greek art, the Archaeological Museum of Athens. In the evening you will return to SIRENS Resort.
Depart at 10 am return at 7 pm


3. One day tour to the ancient city of Olympia

In this tour you will discover one of the most important sanctuaries of antiquity, dedicated to the father of the gods Olympian Zeus. Olympia is the birth-place of the Olympic Games and also where they were held. You will have the chance to see the exact places and stadiums where the first Olympic Games were held more than 2500 years back in history. In the evening you will return to SIRENS Resort.
Depart at 10 am return at 6 pm

4. One day tour to Delphi, the ancient temple of Apollo, the famous museum

In this journey you will visit Delphi, the most seacred place of ancient Greeks, the place that was thought to be "the center of the world". The visible ruins of the temple of Apollo give a great idea of the architecture and the meaning of Greek temples dedicated to Gods. Some of the most important archeological treasures are kept in the museum. In the evening you will return to SIRENS Resort.
Depart at 10 am return at 7 pm
5. One day sailing cruise to the Argosaronikos golf and islands with accessible sailing yacht

In this journey you will experience the wonders of sailing around the Greek islands in your very own-skippered yachts. The yachts are accessible to wheelchair users and meet the higher levels of safety and comfort. You will visit the Saronic and the Argolic islands, where the weather conditions are ideal and the ports have an easy access. During sailing you will discover some wonderful bays for swimming, resting and leisure. This sailing holiday will be the most enjoyable and memorable experience of your life!
Each yacht can carry up to 2 people in their wheelchairs in safety and 6 more seated people. It is uniquely designed to allow open access to all living and sailing areas during the day. A specially designed slide and a hoist allow easy access to the sea for swimming. It is equipped with specially adapted toilet accessible to all wheelchair users.
Depart at 8 am return at 8 pm