SAVOY Hotel Piraeus is a premium business hotel uniquely located in the city centre. It is in walking distance from the Main Port, Passalimani Yacht Harbour and only 10 km from all historical attractions of Athens.
It is also less than an hour from some of Attica's most beautiful beaches and the islands of Argosaronic Gulf.
Its location at the heart of the shipping business area and very close to the exhibition centres, the city's main sights and shopping areas, makes it an ideal venue, whether you are on vacation or in a business trip.
This completely renovated (by the autumn of 2003) hotel offers all modern facilities and yet the warm and friendly environment required by today's discerning travelers.
Sixty-eight fully equipped rooms and three spacious suites, luxuriously furnished communal areas and the personalized service provided by our dedicated personnel, guarantee the high standard of services that have been offered to guests of the Savoy hotel for over twenty years.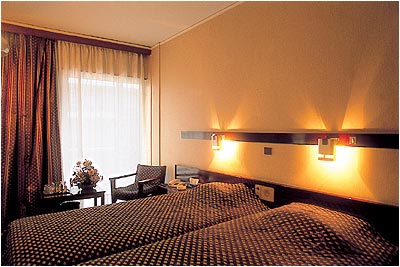 Guest rooms features:
Individual climate control
Satellite television
Pay -TV ( in house movies )
Radio
Direct dial telephone
Modem / Fax outlet
High security key-card lock
Double soundproof glazing
Balcony or terrace ( most rooms )
Private bathroom ( bath tab or shower )
Refrigerator
Mini - bar
Hair dryer ( upon request )
Iron & ironing board ( upon request )
The hotel's Restaurant and Bar, adjoining the ground floor lobby, offer a generous buffet breakfast from early morning hours, Greek and Mediterranean tastes during the day and excellent local wines and drinks into late at night, in a relaxed and elegant atmosphere.
The newly renovated conference rooms in mezzanine, fitted with all the latest in audiovisual equipment, simply set the standards in Piraeus for banquets, conferences, meetings and seminars of all types.

An extensive program of renovation was begun in the Savoy Hotel in 1998. Comfort, tranquility, safety, functionality, relaxing atmosphere, high aesthetic were some of the many targets selected, to help achieve the goal : the guests' ultimate satisfaction.
Things contributing to guests' better service and comfort were the first to be installed in all rooms. Double soundproof glazing, high security key-card locks, modem outlets, completely reconstructed bathrooms.
At the same time many warm subtraction works had to be done: water supply & purification network, laundry & ironing machinery, telephone center & devices, computer hardware and programs, with the outstanding software of "Fidelio", considered as the best in hospitality industry.
The lobby and reception area have been also fully renovated, implying the refined style and the friendly atmosphere of the hotel.
Afterwards it was the turn of bar & restaurant to be renovated. Bar was transferred from mezzanine to the ground floor at a commodious place, adjoining the lobby area. Together with restaurant have been totally refurbished and delightfully decorated to offer the elegant and cozy environment our guests deserve.
Completely redesigned function rooms in mezzanine and a car parking at the backside of the hotel were last year's achievements. The two conference rooms, fully equipped with all the latest in audiovisual technology, proudly offer the best option in Piraeus for the accommodation of all kinds of professional and social events. The complimentary use of parking from our guests comes as another thoughtful service for their better convenience.
The plans of this year concern the fully refurbishment and redecoration of all our guestrooms, as well as an extensive face lifting of the building and surrounding area and has been completed in the summer of 2003