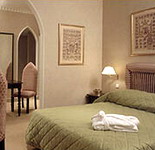 The Kefalari Suites Hotel is a luxury complex distinguished by the fact that each of its twelve suites has a particular decorative theme characterized by its name. For example, on the third floor, the Deck House is a simple yet stylish wooden suite with bright colors and a private veranda. The Saddle Room, Melody and Malmaison suites have their own characteristic and cultural atmosphere of higher aesthetic and convenience while the Jaipur and Africa suites give guests a sense of the magic of the Far East and the exotic African continent.
All suites consist of two main rooms, a bedroom with a queen size bed and a sitting room equipped with a kitchenette and a mini-bar. Moreover, all suites have air-conditioning, double glazing, computer and modem facilities, a desk and a dining table. On our roof top Sun Deck there is also a jacuzzi available for all the hotelís guests.
The Kefelari Suites offer a private check-in area,kitchenette,refrigerator & mini-bar,air-conditioning,veranda or balcony,jacuzzi & sun deck,safe,fax/modem,PC and Hi-Fi.
The hotel is located in Kifissia, a northern southern of Athens with a cooler and more pleasant climate. It is right across the street from the famous Kefalari Park and a short walk from downtown Kifissia where you can catch the metro to central Athens. There is bus service from the hotel too.