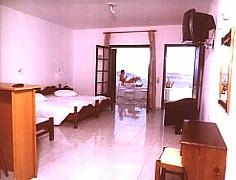 The hotel has been built with impeccable architectural attention to detail and is designed to fit in with, and complement, the beauty of Skiathos.
All it's rooms are spacious with direct views of the sea and each equipped with: en-suite bathroom, Air conditioning, Satellite TV, Refrigerator, Kitchen area and Safety deposit box.
The hotel comprises twenty rooms for 2 to 4 people and five suites of two rooms each for 2 to 5 people.
Also available for it's guests use are a swimming pool of 157 sq. mtrs, a restaurant, a snack bar, a sitting room with TV and extensive parking facilities.