The A-Catagory Hotel Kanapitsa Mare is a modern, family owned hotel, totally restored in 1999. Situated in the Kanapitsa area, 6km from the city, port and airport of Skiathos, facing east, giving you the opportunity to see the best sunrise on the island.
The hotel consists of 45 double rooms, 8 deluxe and 2 suites.
The glamorous reception and lobby make you feel like home while at the same time being in a luxurious hotel.
When you wake up in the morning, you can enjoy your breakfast in the non-smoking breakfast lounge.
Then you can choose out of a selection of 69 golden beaches of the island to visit, or spend your day by the pool, with its children's pool adjacent, both overlooking the Tzaneria bay along with enjoying snacks and drinks at the pool bar.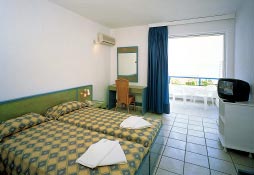 All rooms have either bath or shower. They are individually air-conditioned and have satellite TV, direct outside telephone line with the possibility of modem connection, mini-fridge/bar, safe-box and hair dryer in the shower.

Other facilities include parking, baby-sitting, car rental, currency exchange and business center facilities.

Near the hotel (100m.) you can enjoy all kinds of water sports as well as beach volley and scuba diving.

For those who believe that time is money they can also arrange for private flights for 1 to 3 people throughout Greece.