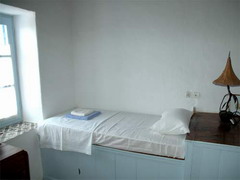 Elma's Houses are located on the hillside of the Old Town and reachable via a short walk down characteristic lovely cobblestone steps heading towards the Old School. With support from the European Union and the Greek National Tourism Organisation, Elma fully renovated the houses (joined by a pretty courtyard and overlooking the sea) following strict guidelines to not disrupt or change any element of their traditional style. The result is fully self-sufficient accommodations suited to modern needs with unique island old-style charm – such as the raised bed, the fireplace decorated by hand-painted plates, and the ceiling-door that separates the downstairs from the kitchen and sitting room upstairs.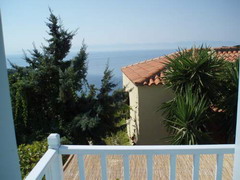 Themed as blue and green – the two old houses are completely and carefully renovated to retain all the original features yet incorporate modern comforts including air-conditioning and contemporary bathroom and kitchen facilities.

Elma, the Greek lady owner, received an award from the EU. An architect by trade she also has an antique shop called "Gorgona" (mermaid) in the old village. Both facts become obvious when you step inside the houses or studios.
The nearest beach (Mikros Mourtias) is about a 15-20 minute walk downhill and is generally very quiet. (there are no sunbeds or tavernas so take your own supplies). The nearest supermarket and tavernas are less than 5 minutes walk and if you have a car or scooter, parking is also about 5 minutes walk.