Astriana is an idyllic and tranquil escape located just 10 minutes' drive from the cosmopolitan and historical city that is Kalamata. Astriana is nestled in our private hillside olive grove with stunning panoramic views over Kalamata, the bay and the coastline on one side and the surrounding mountain range on the other. Everywhere you go in Astriana, you get a glimpse of this incredible scenery as we designed the villa to maximise the views! On this note, all our bedrooms have a private balcony or terrace for absolute relaxation in peaceful and stunning surroundings.
The house is made up of 2 parts, that can be rented separately, or together, depending on your party size.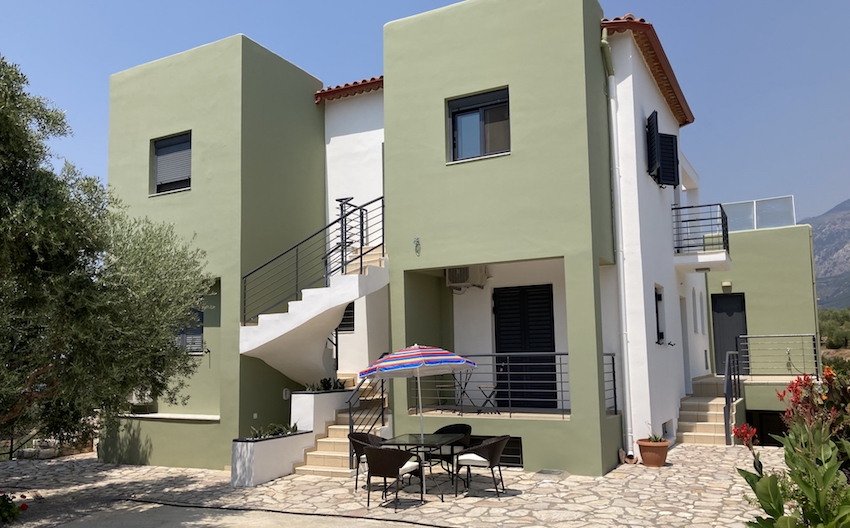 The first area is the Main House, as we call it. This is a 2-storey space which sleeps up to 6 people. There are 3 bedrooms (2 double and 1 twin/king) which are all en suite and with their own balconies/terraces. There is also a spacious living and dining area, plus fully equipped kitchen and laundry facilities. Double patio doors open out to the large saltwater pool and sun terrace which has shaded areas for those super-hot days!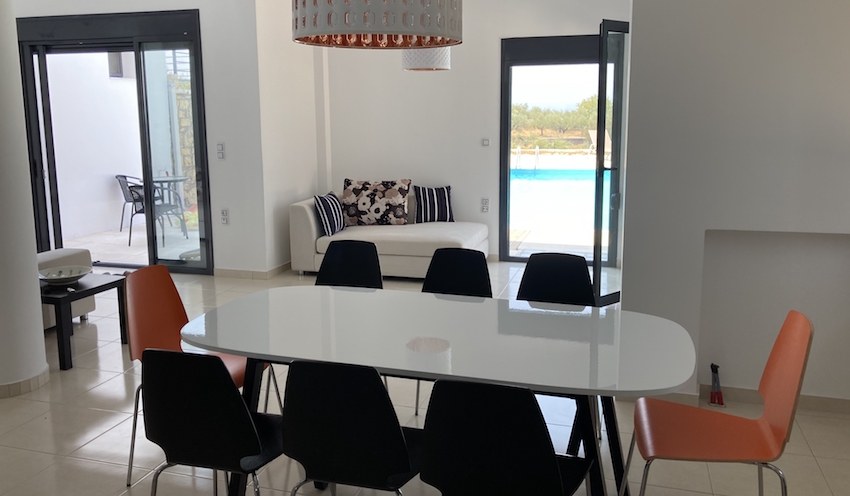 The second area is the Apartment.
This is a one floor space for up to 4 people. We recommend the Apartment for families as there is a shared bathroom; for couples on a getaway, the Main House is better suited. The Apartment also comes complete with fully equipped kitchen, and a spacious dining and lounge area. There is a large terrace to soak in the almost-360 degree views! Access to the private pool is also included.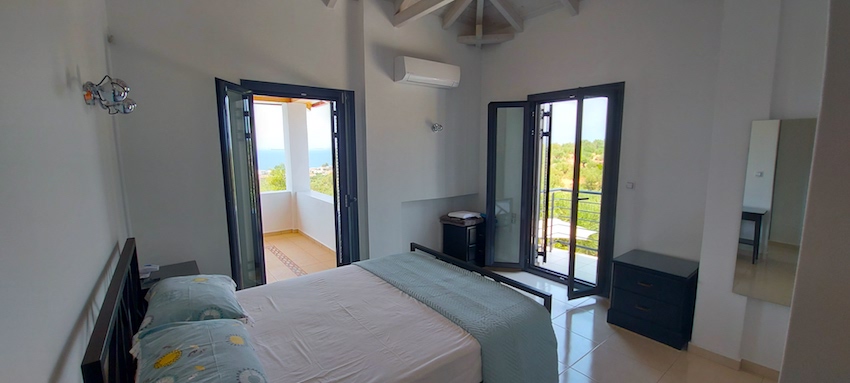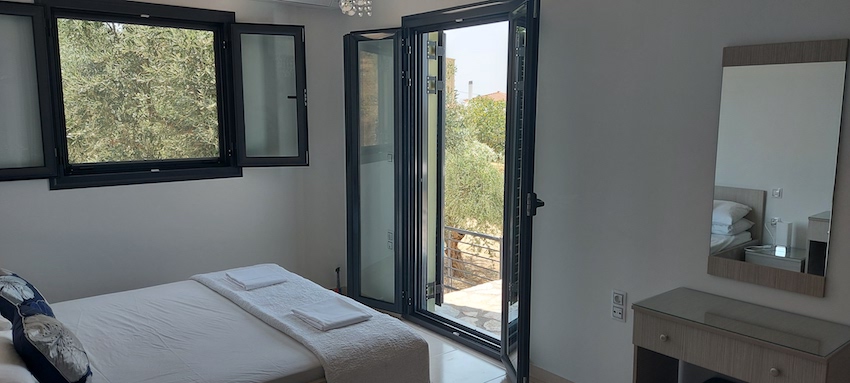 If your party is made up of 7 or more people, you can rent the whole house to accommodate everyone! All our guests have total exclusivity in the villa meaning no matter how many people are in your group, the entire villa will be for just you!
We provide beach and bath towels, English plug extension cables, games, books, WiFi, air conditioning throughout (hot and cold). Changing of bedding and towels once a week.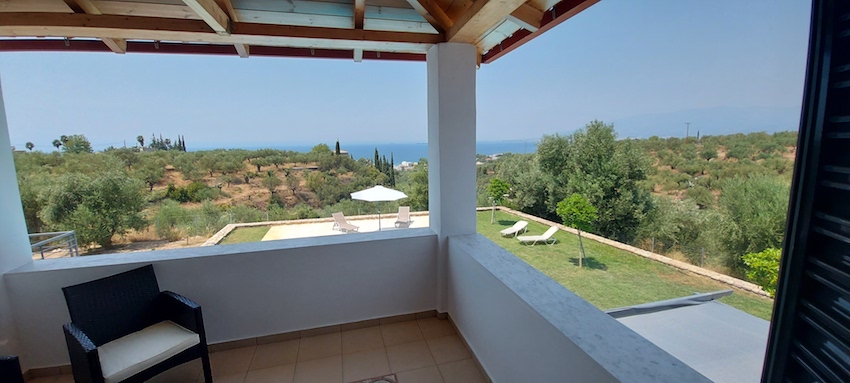 Astriana is set in her own olive grove. The olive trees are an important part of Greek heritage and economy and is something we're proud to have a slice of. Apart from this, you can enjoy the large plot in complete privacy and safety, thanks to our tranquil location and electric security gates.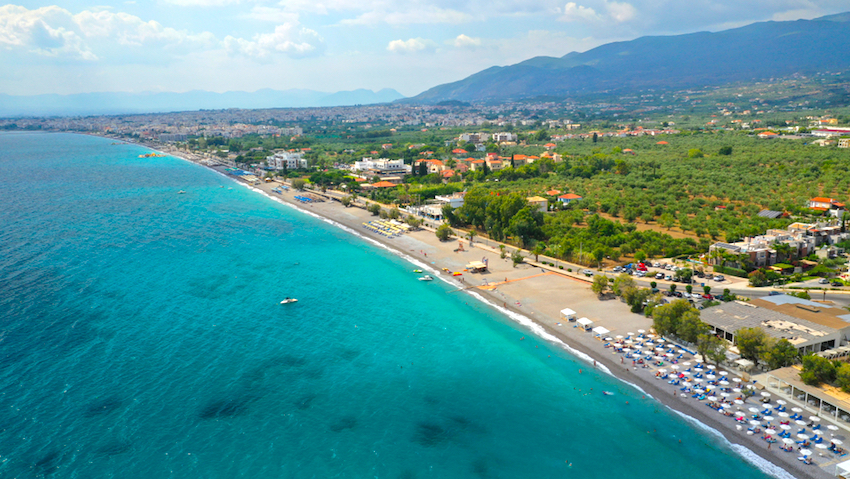 We recommend getting a car to explore the absolute beauty of the Mani and wider Peloponnese area. A trip to Kalamata is a must when staying at Astriana as it is a city of multitudes: Miles of beach and coastal areas, bustling city centre with plenty of shops, restaurants, nightlife and more, historical sites dotted in and around the centre and a lively and thriving harbour and marina.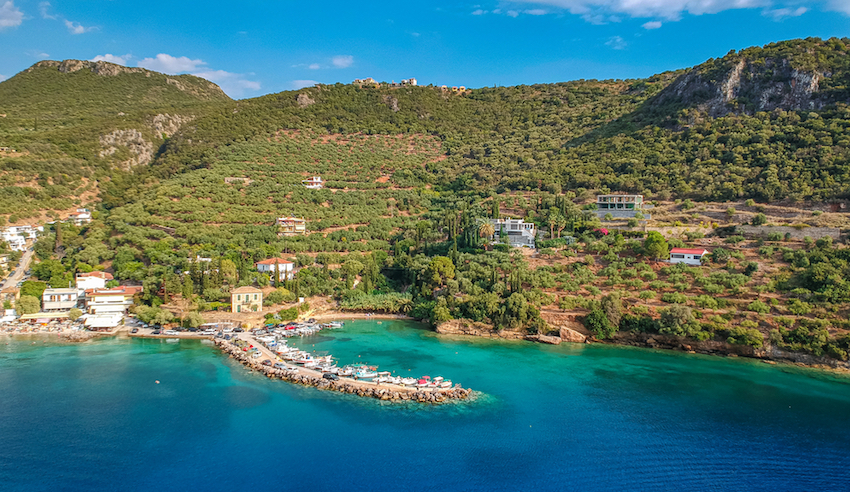 Closer to home, you can find a mini-market just 7 minutes' walk away at the local beach. Here you will also find our locals – the restaurants and tavernas we frequent the most and recommend completely to you! Having this on your doorstep means you don't need to go far to enjoy yourselves, have great food, a few drinks and then a short walk back to bed.
This area of Greece is completely uncommercialised which is one of the many reasons we love it. Here you will find a relaxing pace of life where all the best things in life are to be enjoyed. The tavernas all have fabulous, fresh, home cooked food which is usually caught or sourced that very day. Dining out in Greece is a joy because there is no hurry, no expectations, no real closing up time and no hefty bills to pay at the end (in fact, quite the opposite!)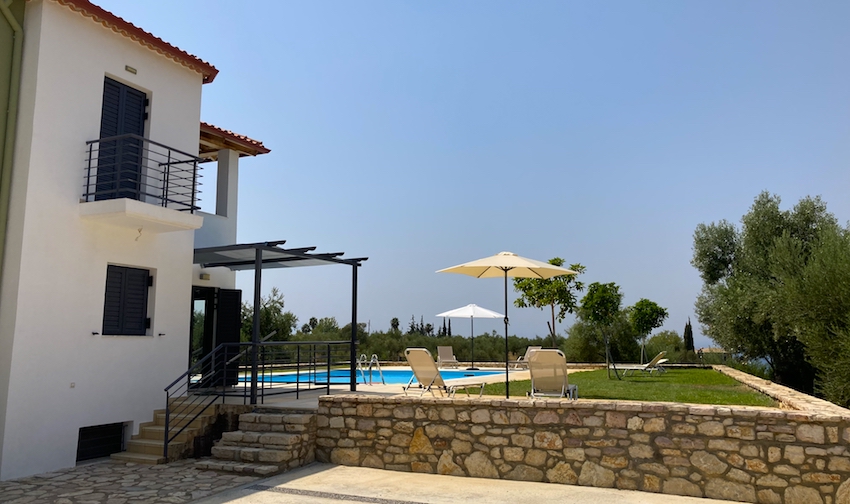 In terms of getting to the house, Kalamata Airport is by far the easiest and closest with only a 20 minute drive to the house. Easyjet, Ryanair, British Airways and Jet2 all fly into the airport from April - October. You can also fly into Athens (at any time of the year) which is about a 2.5 hour drive away. The journey down is very easy and smooth, with a new road connecting Kalamata to the capital. It is usually very quiet and is extremely scenic! We sometimes fly into Athens and spend a few days being tourists, then drive down ready for some rest and relaxation at Astriana.
We also work closely with a car hire company who meets you in arrivals at Kalamata Airport to take you to your hire car in the car park. Let us know if you want their contact details. There are also a number of well-known car hire firms to choose from both on- and off-site.
To book or make an enquiry, please e-mail us
Please also check out our Facebook page. While you're there, please give the page a like!