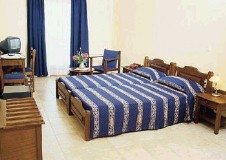 The hotel Roxani is located on the lower slopes of the legendary Mount Ismaros - famed in Homer's Odyssey - on the outskirts of the picturesque and historic village of Maroneia. Situated within one hectare of delightfully landscaped garden, the specific orientation of the hotel affords an imposing
view over the Thracian Golf - which lies at just 3 kilometres distance - the islands of Samothrace, Imbros, Limnos and Thassos, and the mountains of Athos, Pageo and Rodopi. Particularly fine sunsets are to be enjoyed from the Roxani's south-westerly patio.

The hotel, built according to the traditional architectural style of the region, provides fifteen fully furnished rooms and suites including :
Digital satellite TV
Mini bar
Air conditioning system
Telephone
Ability to internet access
Safety locks

The Roxani also affords special rooms and facilities for special-needs guests, as well as high chairs in the restaurant for babies and laundry and ironing service. The Roxani is happy to accomodate small pets in its special facility. A mini-bus service is also provided for the convinience of our guests.

The Roxani waits the pleasure of welcoming you throughout the entire year.

The Roxani's restaurant offers traditional cuisine. Its cafe-bar provides a particularly delightful view. Local foods and delicacies are available to provide a "flavour of the region". Vegetarian meals may be provided according to prior arrangement. An open fire provides moments of winter-warmth on the slopes of a snowy Ismaros.The excellently stocked bar and selection of fine cigars will meet the most discerning tastes.

In the Local Products Shop the guest can find preserved fruits (fig, pumpkin, water melon, orange, etc), honey and other apiculture products (pollen, wax, candles, royal jelly, honeycomb, etc), pure olive oil packed in glass , a variety of pastas and noodles...all home-produced and 100% organic.