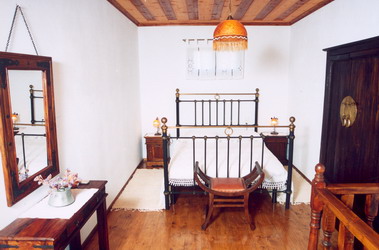 A traditional building with obvious middle age elements mixed with the Lesvian architecture. Built on a mountainside on an eight – acre farm full of olive trees, citrus trees and other vegetation, it has a wonderful view of the sea. You can walk through the small paved paths that lead you to various parts of the farm. The beautiful flowers and trees, as well as the rock gardens with running water offer visitors the ideal environment for relaxation and rest.
Parts of petrified trees come into view at some places of the farm, what is now left, after millions of years. The building is 150m away from the ocean, 500m from the village and 600m from the beach.
The building consists of four apartments and a ground floor (reception) decorated with Lesvian antiques from the past century.
The tower 'IOUNSTINIANOS' consists of three floors that end to a veranda 11m high, as well as a balcony for a full view of the sunset. It is 56m2 .
'THEODORA' has two floors and three balconies. It is 45m2
'CLEOPATRA' has two flat ways, the first with the kitchen and the dinning room and the second with the living room. The second floor has the bedroom that leads to a veranda.
'GIRGOYLA' same as above.
Each apartment has central heating, air-conditioning, NOVA TV , internet, rest room , kitchen, dining room, bedroom with traditional furniture and bed antiques over 200 years old. Washing machine for personal use.