This newly built unit establishes a different type of accommodation for visitors to Sigri - condominiums for those who want the comforts, and space, of a home while on vacation.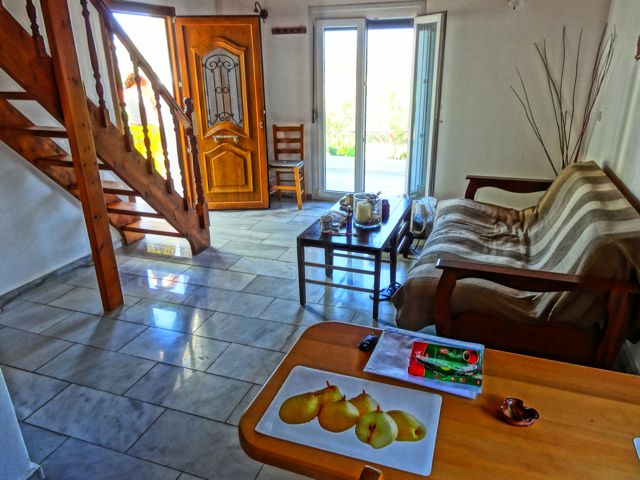 Sigrion Villas are located on the boundaries of Sigri village, close enough to walk to the center (5-7 minute walk to restaurants, market, bar, petrified forest museum, 10 minute walk to Sigri beach) but also far enough removed to offer visitors the perfect setting for peace and relaxation.
Sigrion Villas consist of 5 independent condominiums, all of which face the sea and offer visitors front porches with sea views. Each unit consists of three levels: on the ground floor is the living room (couch, coffee table), kitchen (fridge/freezer, kitchenette, kettle), dining area (table/chairs), bathroom (shower, toilet) and master bedroom (double bed). The second level has two single beds, and the loft area has another bed/futon. Furniture can be rearranged, according to guest numbers and specific requirements. The atmosphere is familiar, cozy, with wooden beamed ceilings, marble floors, and minimal décor, which has been carefully chosen.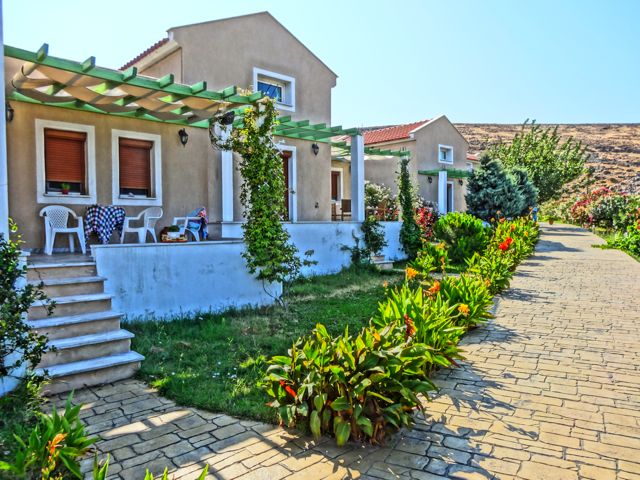 The top priority in these units is comfort, and visitors are guaranteed nights of restful sleep, as mattresses and beds have been imported from the US. The wind and bells from distant sheep herds lull one to sleep. Sunsets are beautifully viewed from the front porches, or better yet, framed perfectly by the loft windows. Visitors have access to the spacious grounds, which are rich with fruit trees (pear, apricot, peach) and flowers. Laundry facilities are available. Sigrion Villas are ideal for visitors who want a home while on holiday. They are an excellent choice for families, as there is ample space for children to play on the grounds and for children to have their own 'space' inside the villas. Visitors for extended stays are especially welcome. The units are fully equipped with all one could possibly need while on vacation. The Greek-American owners live in one of the units and are eager to be of assistance but also leave guests with their privacy.
Last but not least the villas have free wireless internet on the premises.