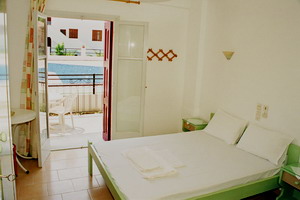 The Studios/Appartments "Elefteria" are in Skala Eressos on a traditional, quiet, small street that comes to an end. They are 50m from the beach and 150m distance from the villages' central square, a very easy walk. There are double or triple rooms and appartments as well. In the corner of the small street-very near to the hotel-there is a restaurant and a mini market. Despite the fact, that the studios are centrally located in the village,the visitors can enjoy quiet vacation. The surrounding area is tree-lined and the main street is paved.

All rooms and apartments are newly renovated and they all have a balcony or a terrace. Some of them, have also view of the sea. They are very clean and fully equiped. All rooms and apartments have a private w.c, a small kitchen with all necessary equipment, fridge, hair-dryer, air-conditioning (available at an extra charge of 5 euros per day) and telephone.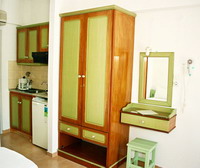 The swimming pool and the open-air bar are at the disposal of the hotels' customers. Moreover, there is a call center, which is connected to the bar of the pool that it operates as a reception as well. The bar offers a variety of drinks, cocktails, juicies, metal water, toasts, breakfast etc. The customers have also the ability to order whatever they like from the bar and have it delivered in their room or as an alternative they can enjoy their drink, breakfast etc. by the swimming pool.