A short walk from the restaurants and cafes of Molyvos, the Delfinia Hotel & Bungalows features a private beach area and seasonal outdoor swimming pool and restaurant with a view of the castle
Delfinia Hotel & Bungalows welcomes you to the serenity of Molyvos beach and introduces you to a whole new world of hospitality. Enjoy your stay in our friendly Molyvos Hotel on Lesvos as you discover the magnificent village of Mythimna.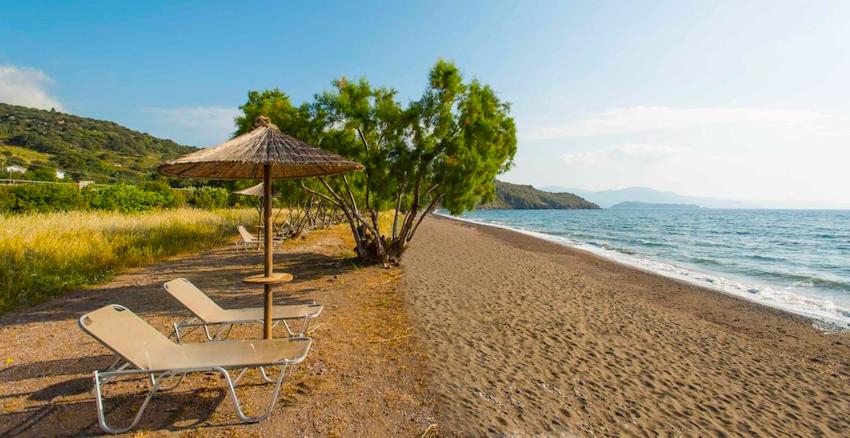 Based on a beautiful estate, our traditional hotel in Molyvos, also known as Mythimna, offers a warm family environment that will surely capture your heart. The harmonious ambience of the Molyvos beach and the unparalleled beauty of the village of Molyvos, offer the perfect setting for a romantic vacation or a family holiday on Lesvos, Greece. Delfinia Hotel & Bungalows, being the first hotel of Molyvos, stands as a symbol of the hearty hospitality offered on Lesvos Island and the warmth of its people.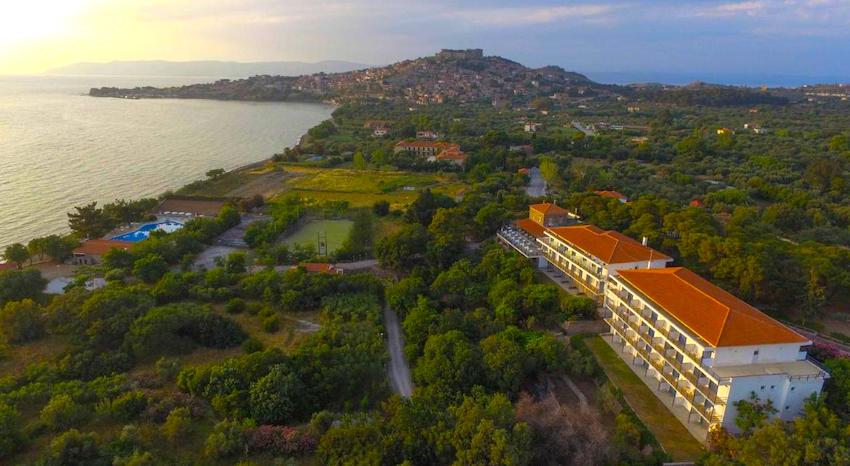 Delfinia Hotel & Bungalows is one of the first traditional hotels built on the majestic island of Lesvos, Greece in 1961. This picturesque Molyvos hotel started with 40 rooms and was extended and renovated during the 60ís and the 80ís. In 1988, Delfinia Hotel became Delfinia Hotel & Bungalows and managed to reach a total of 125 rooms to accommodate its guests.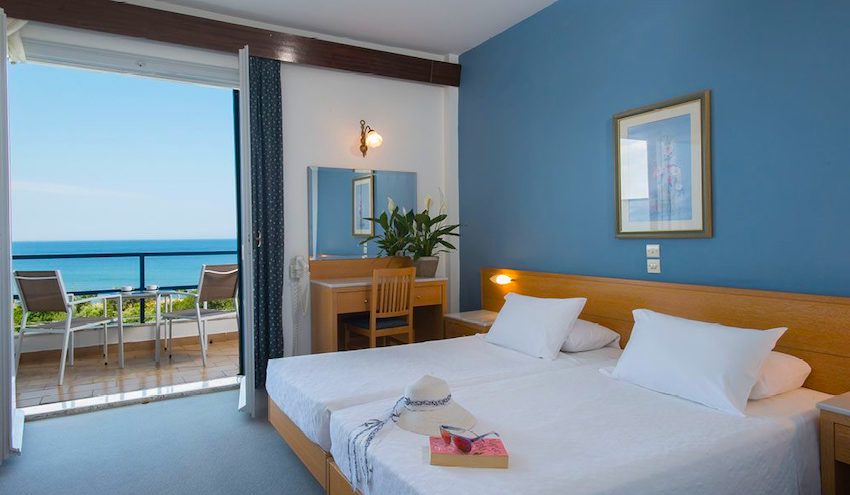 All areas of the main building, much like our rooms, are decorated in a traditional village style providing you a serene and relaxing atmosphere for your Greek Island vacation. A reception area, a spacious living room, a bar, a restaurant and an astonishing veranda with stunning sea view, create a magnificent combination that places our hotel amongst the best hotel accommodation in Lesvos.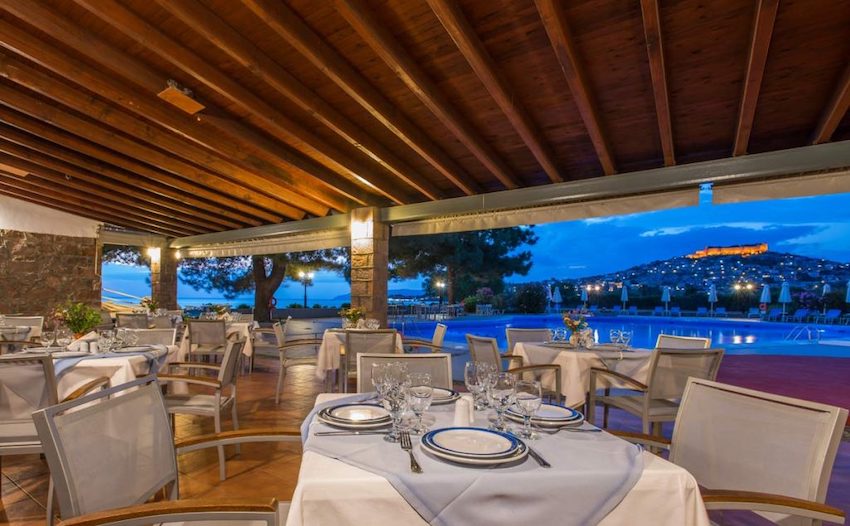 Situated by the hotelís pool next to the beach, our traditional Tavern is ideal for ouzo tasting accompanied by local delicacies, while you enjoy the stunning view. Surrounded by beautiful and authentic scenery, offering the best view of Molyvos castle, the setting is both romantic and serene. All the dishes are prepared with natural fresh ingredients, and the renowned Mytilene oil is used in all of our recipes.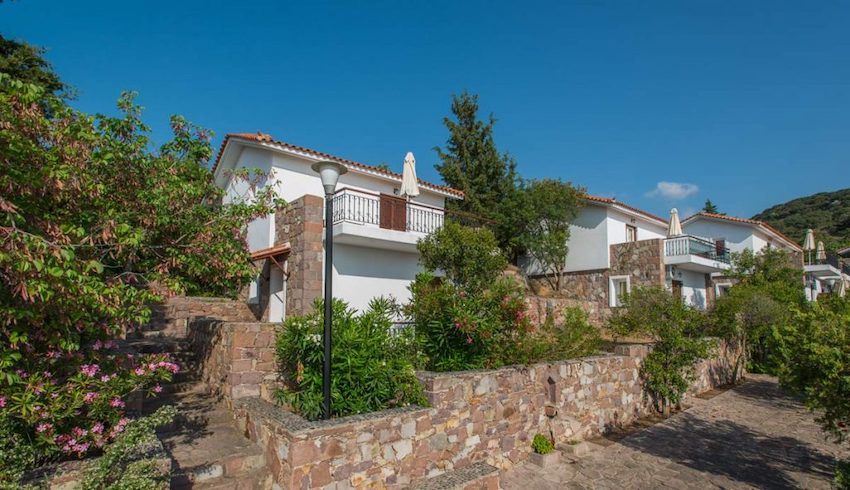 The cozy and comfortable bungalows are built in the traditional architecture of Mythimna, thus blending harmoniously with the propertys. The bungalows consist of 57 rooms decorated in a simple and elegant manner. In the exterior, little paths intertwine and bring you to the hotelís vast garden, making you feel like you are walking through a fairytale island village.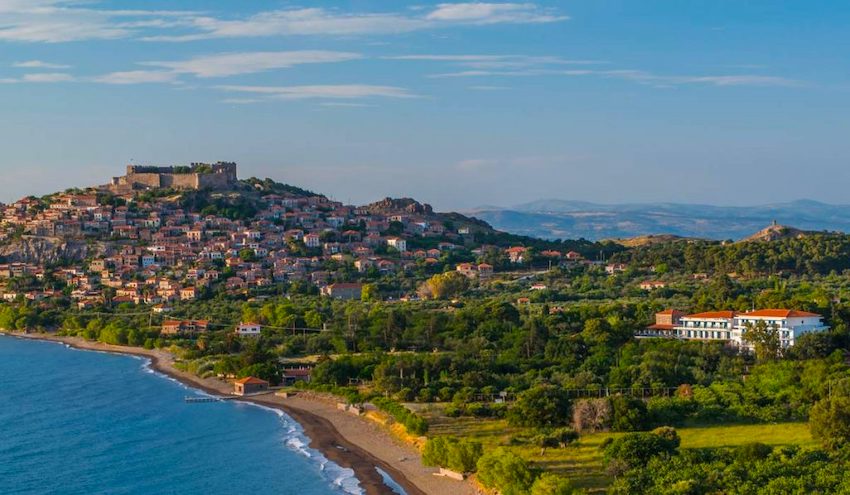 Hotel Booking Information
To book through Aegean Thesaurus Travel click here. This is recommended if you will need flight or ferry tickets, other hotels, tours, cruises or more assistance and you want to deal with a human being and not a computer if something goes wrong.
If you just want to book this hotel and won't need the assistance of a professional travel agency click here for booking information, more photos, guest reviews, maps and low rates.