Anaxos, Lesvos, Greece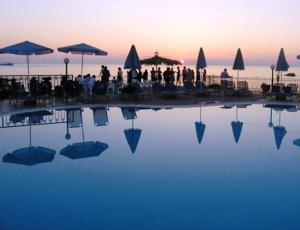 ANAXOS HILL APARTMENTS AND BUNGALOWS is a CAT A hotel, located in an area of 30sq acres, on a hill with spectacular views or Anaxos, Petra, and Molyvos. Its location, just 150m from the 850m long beach of Anaxos, is truly wonderful as it's setting on the small hill to the north east over looks the crystal clear Aegean Sea. The hotel features individual stand alone one bedroom bungalows, ideall for 2-3 people. They all have fully equipped kitchen, private bathroom, telephone, and air condition, TV. Each bungalow has its own spectacular view from their own private shaded terrace.

One bedroom apartments are ideal for 5 people. They all have fully equipped kitchen, private bathroom, telephone, air condition, TV. Each apartment has its own view from the pergola shaded private terrace.


Two bedroom apartments are ideal for 6 people. They all have a lounge area, a fully equipped kitchen, private bathroom, and telephone. The view from the private pergola shaded terrace is wonderfully private. Also, air conditions, TV, are available for all these apartments.

Facilities Televisions are available on request, as well as baby cots.

There is a large play area for children and a swimming pool. The complex at Anaxos also has a bar, reception, and deposit boxes available. There is a small private beach area below the complex that over looks Petra. 200m away, there is a wide choice of taverns and cafeterias, as well as a couple of supermarkets.

The Anaxos Hill Complex is partly surrounded by 250m of Aegean coastline, with great views. Volleyball and football can be enjoyed also on the complex. The complex has ground lighting for the evenings, and good parking facilities.

The apartments are ideal for families as they are set in their own private area away from local traffic.

The complex is not suitable for older people, or people with disabilities, due to the hill.

Open Apil – Oct.
Hotel Booking Information

To book through a Greek travel agency click here. This is recommended if you will need flight or ferry tickets, other hotels, tours, cruises or more assistance

If you just want to book this hotel and won't need the assistance of a professional travel agency click here for booking information, more photos and rates.