Agios Isidoros, Lesvos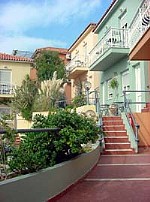 The Aegean Sun Hotel is located in the hamlet of Agiasos Isadoros, just 1km from Plomari, the second largest town on the island of Lesvos. Upon entering the hotel reception area one is immediately greeted by the friendly and helpful staff who speak excellent English and are on hand at all times to offer their clients a great welcome and service.

The ground floor offers guests a comfortable lounge area and personal safety deposit boxes offered free of charge. There is also the additional bonus of internet facilities available for a small additional charge.

The first floor is cleverly divided into to two parts, home to the hotel bar with comfortable lounge, television, and even a piano as well as the breakfast room. Both offer views overlooking the bay of Agiasos Isadoros from the front and rear views opening onto the swimming pool and surrounding accommodation.

The hotel features 43 individual rooms. All are located in small traditionally built villa style houses, each housing four separate units with private entrance and either balcony or a front terrace area. All the accommodation is situated in an amphitheatre on different levels surrounding the hotel swimming pool and offers views of the Aegean Ocean. Each unit has full air-conditioning, a fridge, television, direct dial telephone, radio and hairdryer. The rooms are spacious and all have fitted wardrobes, each individually decorated in a charming mixture of calming pastel shades, echoing the external decor of the villas.
Hotel Booking Information

To book through a Greek travel agency click here. This is recommended if you will need flight or ferry tickets, other hotels, tours, cruises or more assistance

If you just want to book this hotel and won't need the assistance of a professional travel agency click here for booking information, more photos and rates.