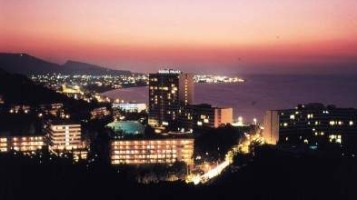 Ixia
Majestic Rodos Palace, on the historical island of Rhodes, represents the ultimate in deluxe resort and convention facilities in Greece. Ideally located on a privileged site, extending from a cool green mountain down to a sandy beach, it offers a cornucopia of leisure time activities, conveniences and comforts. Its Congress Centre is the most complete in the country and one of the most modern in Europe, thus making the Rodos Palace a meeting and incentive destination par-excellence.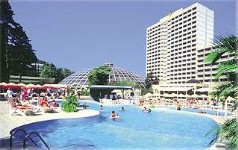 An impressive, modern 20-storey tower building dominates the complex, providing guest rooms with uniquely stunning views of the Aegean Sea and the green surrounding hills. Adjacent to the Main Tower is the new 7-storey Executive VIP wing. On the slope of the hill, within well-kept gardens, there are 14 units with studios, apartments and bungalows.

Decorated by the famous American hotel designer Maurice Bailey, who, after completing his studies in Architecture and Theatre design in the US, worked in Hollywood film studios serving as a designer in the memorable movies "Quo Vadis" and "Ben Hur". During his career he decorated 50 top hotels and private homes of famous personalities such as Conrad Hilton, Kirk Douglas and Loretta Young as well as Palaces including that of the Emperor Shah of Iran. His colossal work is greatly appreciated and much admired around the world.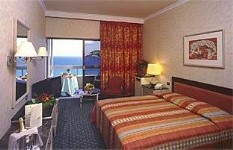 Located in the 20-storey tower and renovated in 2000, standard rooms have stunning views of the Aegean Sea, the well kept gardens and surrounding hills. All rooms are luxuriously appointed with a full range of facilities including balcony, en-suite bathroom with hairdryer, air conditioning / heating, minibar, satellite colour television with pay TV, info channel, view bill and express check out, radio and taped music, direct dial digital telephone with Voice Mail, on hook dialing & single touch buttons to hotel services and 24-hour room service.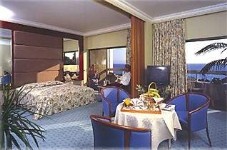 The junior suites are located on the 20-storey tower and are all facing the Aegean Sea. Having the size of two standard rooms, they consist of a master bedroom and a living room divided by a wooden sliding divider. The bedroom has a dedicated dressing area, wooden closet and a full bathroom. The living room contains a round table with four armchairs and a sofa that can be converted into two beds. The two predominant colour schemes of the upholstery, the wall coverings and the carpets are either turquoise blue or orange brown.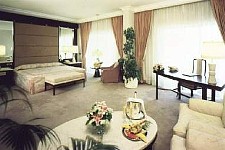 Living in one the five Presidential Suites of the Rodos Palace simply implies that you have chosen a spacious, luxurious and prestigious place to spend most of the time of your precious holidays. A Presidential Suite consists of two large rooms: A spacious sitting and dining room and through the interconnecting door, a bedroom with desk and sitting area separated from the bedroom space by a ceiling-height sliding panel. The bedroom has a fully equipped bathroom and en suite dressing area, while in the dining room there is a guests' WC. Both the bedroom and dining room have separate entrances and ceiling-high windows enabling guests to enjoy fascinating and panoramic views of the Aegean Sea. The Presidential Suites have been tastefully decorated in pastel colours by the famous designer Maurice Bailey. Numerous world famous personalities, celebrities and VIPs have stayed in these suites including the Heads and Presidents of European countries during the 1988 European Union's Summit Meeting.

Restaurants and Bars in the Hotel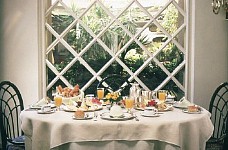 Gallery Cafe
A bright and cheerful French style cafe with an air of relaxed luxury for an informal start to the day. Open every morning from 7:00 to 10:00.
La Terrasse
An elegant, sophisticated restaurant with pleasingly fresh decor and superb views of the pools and terraces, serving American buffet breakfast exclusively for the Executive VIP Wing & Suites guests from 7:00 to 10:00.
Pool Restaurant
Traditional Greek & International speciality dishes served daily in a casual setting beside the outdoor pools. Guests on halfboard basis may use this restaurant daily for their entitled meal from 12:30 to 14:30, while a la carte meals and snacks are served from 10:00 to 18:00.
Ambrosia Dining Hall
The hotel's main dining hall, annexed with the Nectar dining Room, is the hotel's table d'hote restaurant. Open daily from 19:00 to 21:30.
La Rotisserie Gourmet-Piano-Restaurant
The famous gourmet restaurant where attention to detail transforms dining into an art. Exquisite haute cuisine grill room where gastronomic delights include classic grilled meats and seafood served in an intimate atmosphere with talented piano playing and singing to accompany. Open daily from 19:30 to 24:00.

Amphitrion Piano Bar
Intimate and delightful rendez-vous venue with live singer on piano every evening until after midnight. Open from 10:00 to 02:00.
Waterfall Bar
Enjoy the pleasure of a cool & refreshing long drink, or a fresh fruit juice while piano playing & singing sunbathing at this novel bar. Open from 10:00 to 18:00.
Playland
The children, and quite a few adults, will find an electronic Alladin's cave in the Playland arcade with the latest vide games, pinball machines, pools, billiards and even its own bar. Open from 17:00 to 24:00. Guests can also visit our new Internet Cafe open in the Playland from 18:00 to 24:00.
Dome Music Bar & Club
Live performances and extravaganzas including Greek, Oriental, and Cabaret evenings beside the indoor pool under a spectacular glass dome. Open from 21:00 to 01:30.


Swimming, Fitness and Fun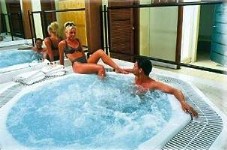 Three Swimming Pools: one Olympic sized, heated & covered with a fantastic dome (unique in Europe), two open air and one separate children pool with playground. Furthermore three tennis courts, table tennis, bridge room and water polo

Beach:
At the E.U. "Blue Flag" awarded beach for seawater cleanliness one can indulge in a variety of water sports from pedaloes to windsurfing and jetski. Near the hotel there is also a horse riding school, an 18-hole championship golf court, yachting, fishing and scuba diving.

Playground and Playcenter:
Miniclub and Animation activities are available to support the programme featuring games in and around the pool including family splash, quizzes, competitions, table tennis. The Teenages Arcade includes billiard pools, electronic games, a large TV screen, an Internet Corner ans its own bar.

Fun Land Resort Area:
A superb family area especially designed to meet the needs of parents with children of all ages, babies, under 4's, kids (4-12) and teenagers (12-16) with new facilities such as: Family Laggoon type pool, SuperFamily Restaurant, Soft Play room, Playroom, Playground and Playcenter, Teenagers Arcade, Miniclub & Animation etc.
Keeping Fit & Healthy

State-of-the-Art Fitness Center:
Set on 550 sq.m, features a fully equipped gymnasium with Nautilus, Life Fitness and Technogym exercising equipment, a studio with a comprehensive schedule of professional aerobics and dance classes, jacuzzi, steam room, sauna and massage.

Shopping Arcade:
Alpha Credit Bank of Greece, Hertz Rent A Car, Jewellery Shop, Hairdressing Salon, Newsstand-Tobacconist-Drugstore, Boutique, Toy shop, Furrier, Tailor, Gift shop and Supermarket.

Other Services:
Internet access, Email, Telex, Fax, Photocopying, 24 hrs Reception Desk with multilingual staff, Laundry, Dry Cleaning, Valet, Daily maid service, 24 hrs Room service (excluding apartments), Non-Smoking floor (Executive Wing), interconnecting rooms (Executive Wing), Voice mail system, TV conference channel, Safe deposit boxes at the Reception area, Pharmacy, Car & bike rentals, Excursions, Sightseeing tours, Yacht charters, Parking facilities for 350 cars.

Services Available On Request:
Doctor, Babysitting, Photographer, Video, Translator, Interpretation and secretarial services, computer, electronic mail

Hotel Booking Information

To book through a recommended Greek travel agency click here. This is recommended if you will need flight or ferry tickets, other hotels, tours, cruises or more assistance

If you just want to book this hotel and won't need the assistance of a professional travel agency click here for booking information, more photos, guest reviews, maps and low rates.