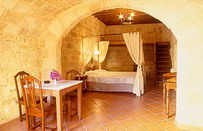 Near the Palace of Knights in the medieval town of Rhodes is the unique Hotel complex of S. Nikolis. The hotel was built on the 2000 years old ruins of the ancient market in an attractive part of the crusader section.

The main building consists of 12 double rooms some of which can be converted to triple rooms. 2 rooms have arches 800 years old. Each room is air-conditioned, has a private bath, hairdryers, fridge, color TV, telephone with direct line. Some rooms have veranda/patio and some have balconies.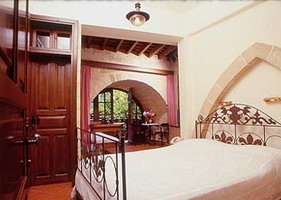 The apartment complex consists of 4 spacious self-catering apartments which can accommodate 2-4 persons. Every apartment has a fully equipped kitchen, bathroom color TV and a direct line telephone. Two of them are with balconies and two with small courtyards. Connected to the apartments are the newly built studios. Studios and apartments can be connected. 2 studios have Jacuzzi - 2 have shower. One studio has it's own garden with a lemon tree and other schrubs, and all are air-conditioned.
The honeymoon suite complex consists of 4 spacious air-conditioned suites. Two suites that accommodate 2-4. Every suite consists of a bedroom with king size bed. The suites that accommodate 2-4, have either one single loft bed or a double loft bed. One suite is with 2 king size beds and a single loft bed. Two suites have balconies, two have a small courtyard. Two suites are equipped with bathroom with shower and two are equipped with bathtub or jacuzzi. Every suite has a hairdryer, color TV, direct line telephone and a fridge. No smoking rooms are available. Access to Internet on-line, for the guests.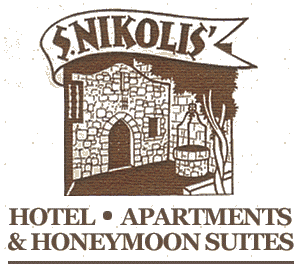 In the Hotel apartments you can live like a knight of old, with a castle like ambience, influenced by the 13th century and situated in a most attractive area of the Old Town. Complete with handcrafted rooms of different sizes, self-contained apartments and honeymoon suites, wrought iron king-size beds, constant hot water, television and telephone and a superb breakfast, which is served on the roof garden where there is an excellent view of the Historical Old Town and harbour. S. Nikolis Hotel complex is restored in the medieval style which reminds the guest of the period when the knights of St. John lived on Rhodes. (1309-1522). The hotel complex is placed over the ancient agora and next to the hotel guests can explore the recent excavation of the ancient city.

In the hotel restaurant, you can choose through a variety of dishes made in their traditional oven and a wide selection of local and regional wines. The S. Nikolis Hotel is situated in close proximity of many interesting small tavernas and restaurants where guests can sample the wide variety of Greek cuisine.

The Hotel offers restaurant facilities for lunch and dinner, breakfast on the roof garden with a superb view of the old town and harbour as well as a unique bar with a variety of drinks and cocktails. The bar area also has a room with an original 800 year-old built in fireplace which offers a very cozy and warm atmosphere for winter guests.