Thanasis Mavrakis, his wife Birgid and their daughters Dorothea and Alexia offer you their hospitality in The Cava D' Oro, a fine hotel in a historical building, in the old Town of Rhodes in a quiet area.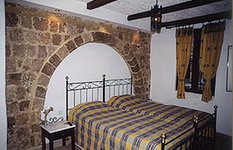 This 800 year old building offers rooms, each with a different charm, with view, private bathrooms, direct dial telephone, television, hair dryer, air-conditioning, safe box and 24 hour hot water. Non smoking rooms are available on request. Cava D' Oro is a part of the medieval wallsand built according to the style of the old Town.
The Hotel has 2 family suites, triple rooms and double rooms. It also offers restaurant facilities. Breakfast is served in the garden area and no lugging your suitcases because the Cavo D' Oro is the only hotel in the old Town accessible by taxi.

Many famous people have visited the Cava D' Oro, including Monty Python's Michael Pallin on his "Pole to Pole" expedition.