Hotels of Greece

Leros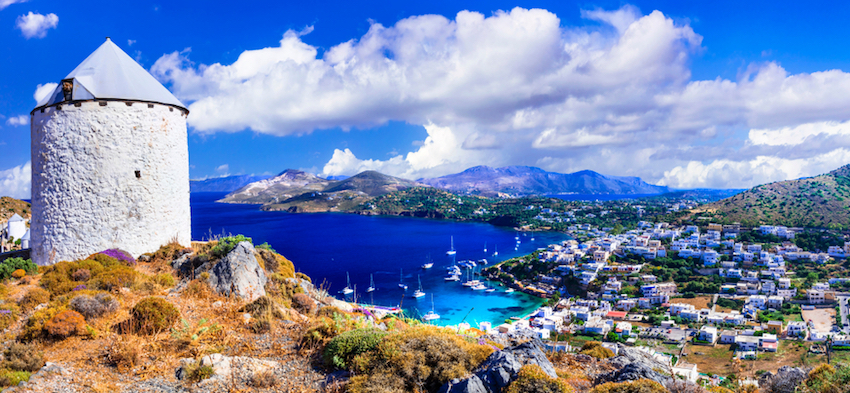 One of the undiscovered treasures of the Dodecanese Islands with everything a traveler would want including castles, ancient sites, churches and great food. The main port of Laki is one of the best examples of Art Deco Architecture, though it is actually called Italian Rationalist, in a city created from scratch in a swampy area when the island was a part of Italy. It was designed by Mussolini's architects in 1923, though the capital is in the village of Platanos and most of the hotels, restaurants and nightlife in the beach towns of Pandeli, Agia Marina and Alinda. The rest of the island is green with stunning beaches and large bays.
Click on the links below to see my recommended hotels followed by other highly rated accommodations. You can also use the Leros Hotel Search if the choices here seem too overwhelming or if you are looking for a particular hotel. A great way to plan your trip is my Create-an-itinerary page which allows you to put together a custom itinerary with the help of a travel agency with no obligation to book. You can find recommended travel agencies on Matt's Travel Agencies and Tours Page. For more information on the island visit Matt's Guide to Leros.
You can find more hotels, villas, apartments, holiday homes and rooms in Leros by location, price, whether or not it has a swimming pool or is on the beach, and see photos, maps and reviews by Searching More Leros Hotels. Excellent prices and many hotels you can book and then cancel with no cancellation fee. For those who want to book without using a travel agency this is the best way to do it.
Otherwise if you need assistance you can use Matt's Create an Itinerary Form or visit the website of Fantasy Travel who can assist you with hotels, ferries and putting your trip together.
For Car rentals contact Elias at Swift-Avanti Rent-a-car who cooperates with agencies all over Greece or else see Fantasy Travel's Car Rental page.

Use Ferryhopper to find all direct and indirect ferry routes for the islands of Greece, Spain, Italy & Turkey, compare ferry companies & prices, and book cheap ferry tickets with no hidden fees in one go!



Help Support Matt's Greece Guides
Do you enjoy using my site? Have you found it entertaining as well as useful? If so please show your appreciation by booking hotels through the travel agencies and the links found on my Hotels of Greece site. The small commission I make on the bookings enable me to keep working and in most cases you won't find them any cheaper by searching elsewhere. You can find hotels in Greece by location, price, whether or not it has a swimming pool, and see photos and reviews by using this link to booking.com which also contributes to my website when you book.
Join Matt Barrett's Greece Travel Guides Group on Facebook for comments, photos and other fun stuff. If you enjoy this website please share it with your friends on Facebook. If you are appreciative of all the free information you get on my websites you can send a donation through Paypal or Venmo
Return to Hotels of Greece Index