VILLA KALIMERA - Cat. B - Located in Akrotiri


Its name means "good morning" and their owners guarantee that every day you spend there is a good one. A small, family run property that enjoys an unobstructed view both to the Caldera as well as the other side of the island. The nearest beach - a rather narrow strip of sand & pebbles - is 250m away but downhill. At 1-1,5kms distance is the famous Red Beach, where one can also find some of the best fish restaurants on the island. The village of Akrotiri is 100m away and the archaeological site is at a distance of 1km. Fira is 9kms from Akrotiri (regular bus connection - bus stop almost right outside the hotel). Lunch and dinner is prepared and served upon request, and the BBQ oven by the pool operates almost on daily basis. Shortly a TV corner and Internet access (from the hotel's computer) will be available. The major advantage of the hotel are the owners, the family of Mr. Papalexis, who create a very friendly and family like atmosphere.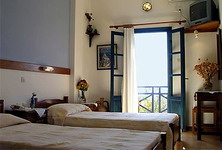 The Kalimera Hotel is located in the settlement of Akrotiri, on the southern coast of Santorini Island, Greece. It is built in a privileged spot, close to the world-famous Akrotiri Minoan Settlement and with a view of both the Santorini Caldera and the volcano to the north and the endless blue waters of the Aegean to the south.
The Kalimera Santorini Hotel in Akrotiri Santorini Island is comprised of 21 stylish and cozy hotel rooms, suites and maisonettes that can accommodate families, groups of friends, couples and honeymooners. The hotel was renovated in 2006 to enhance its charming traditional features and to add ultra-modern facilities that will make your stay extremely comfortable and pleasant. It is a family-run establishment where personal care is provided to all of its guests. The Kalimera Santorini Hotel Rooms, Suites and Maisonettes in Akrotiri is a 3-star *** hotel which operates from April to October.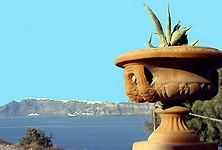 The Kalimera Santorini Hotel in Akrotiri, Santorini Island offers a total of 21 standard rooms, family rooms, honeymoon suites and rooms, and maisonettes, all of which have a welcoming atmosphere and are tastefully-designed to make your stay unforgettable.
The maisonettes and honeymoon suites have two levels. The honeymoon double rooms have traditional double beds with honeymoon curtains.
All hotel rooms, suites and maisonettes are air-conditioned and include: a private bathroom, satellite TV, a fridge, a direct-dial phone with ISDN lines, internet access, a hair dryer, heating, a balcony or a veranda with a spectacular sea view. Baby cots are provided upon request at the Kalimera Santorini Hotels Accommodation in Akrotiri, Santorini.
Hotel Facilities include: a reception desk (operating hours: 08:00 – 22:00), a traditional-style restaurant with hand-made woodwork (menu of home-made Greek dishes and BBQ), a swimming pool with chaise lounges on the cobblestone deck, a pool bar, a conference / banquet hall for up to 40 persons, a lounge with a TV video projector, and a PC with wireless, high speed internet access, a gift shop, a roof garden with a superb view of the pool and the Aegean Sea, a café, a Mediterranean-style garden, and a parking area.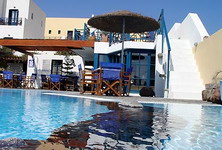 The management of the Kalimera Santorini Hotel Rooms, Maisonettes and Honeymoon Suites has devoted much time and attention to creating a wonderful vacation spot that combines modern facilities with the unique traditional character of Santorini. The hotel is built according to the charming Cycladic architectural style, with whitewashed buildings, stone-brick walls and cobblestone paths. Flowers, potted plants and palm trees add a special "touch" to this beautiful environment. Renovated in 2006, the Kalimera Santorini Hotel has added several new facilities and refurbished existing ones, in order to fully cater to the needs of its guests. As always, the hotel services are personal and of the highest quality, and offered with genuine hospitality and great efficiency, making Kalimera one of the finest Santorini Akrotiri Hotels.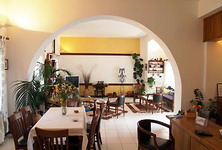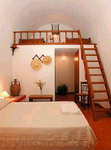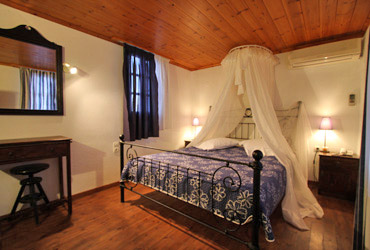 Hotel Services: daily maid service, fax transmittal, transfer service, car rental, safe deposit boxes, wedding planning