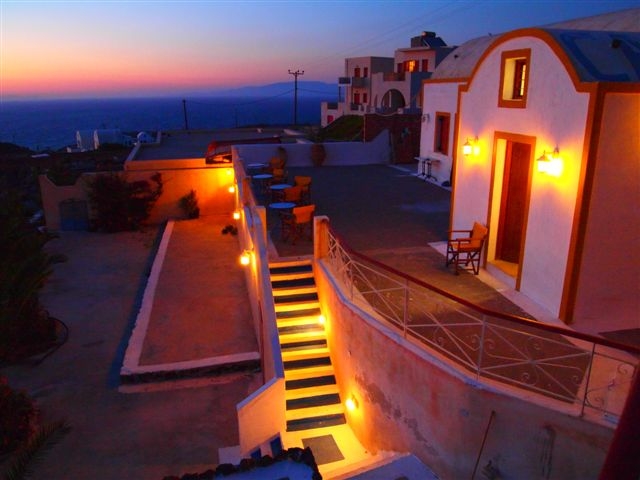 Ether studios are located in the beautiful traditional village of Oia on the way to Ammoudi port. It is a very nice spot with a multilevel outside area and an enchanting view of the sunset for which Ia is so famous. Being settled at the extreme north of Oia, the resorts has more than 270 degrees of panoramic view in the Aegean Sea, overlooking the islands of Thirassia, Sikinos, Folegandros, Ios, Naxos, etc. THE PLACE where you can see the famous Santorini's sunset, even from your window. The Ether studios complex offers mail and internet service, car and motorbike rental, taxi and bus services, tourist information and daily cleaning room service.
All rooms consist of: Fridge, mini-bar, telephone, safe-box, Private veranda with sea-view, Daily room cleaning service, (towels change every day and linen change every two days). We provide you with a front seat view of the world famous Ia's sunset, overlooking more than 24 islands. You may sit on the large terrace under the canopy of the starlight night, leisurely siping cocktails or tasting the delicious home made Mediterranean cuisine and famous wines of Santorini. Newly built but traditionally furnished, each studio can accommodate 2 - 4 guests, with bedroom, living room, shower, mini bar, private terrace with palm trees, room service available and private parking. NEW! Swimming Pool and Jacuzzi!!!

Oia village is an unusual traditional settlement with intense character and unique fascination. The wildness of the landscape, the breathtaking view, the multicolored beaches formed by the volcano's lava and the deep blue Aegean Sea combine a picture of wild, proud and imposing beauty. The whole village is one huge pile of volcanic lava. The ground you stand on is not part of the earth's crust; it has been created by the hardening of a viscous liquid expelled from the bowels of the earth, like the blood from a wound drying on the skin. White, red, black and brown are its colors. The traditional settlement of Oia is the most famous place of the island. Ia(ia) has been variously an ancient settlement, a wasteland in the Classical period, a Venetian outpost, a pirates' cove, a Greek guerrilla bastion against the Axis Powers, a fishing - winemaker village, and, for a short time each summer, tourist destination.
The Ether Traditional Guest Houses offers the kind of quality and views you will find in the most expensive hotels in Santorini but at a price that the most budget concious traveler can afford. You can click on above photos to see them full size.