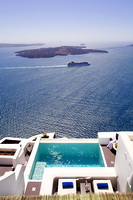 On the highest point of the famous Caldera, nestled in the heart of the colourful volcanic rocks, Dreams Luxury Suites offers a unique combination of privacy, bespoke luxury, and breathtaking views to the world's most beautiful Island and famous sunset.

The picturesque village of Imerovigli offers the discerning guest the ultimate combination of stunning views and romantic Private Suites in tranquil surroundings – all found minutes from highly regarded local restaurants.

Follow the path along the cliff with uninterrupted views to the sea, and you will arrive at Fira – the bustling capital of the Island in less than 15 minutes. Fira town can also be accessed in less than two minutes by bus, private car or taxi which we can arrange for you day and night.
Follow the path in the opposite direction and you will arrive at the beautiful traditional village of Oia.
Dreams Luxury Suites is the place where style, opulence, and perfection meet a world of beauty and tradition. They represent a new concept of sanctuary with just four luxury suites that have a unique personality, and combine courteous and warm service with authentic tradition. The Suites were designed for the distinctive guest who is able to appreciate a singular kind of comfort, class, space and tranquillity.


Our Luxury Suites, and the staff serving them are unique, and we are dedicated to making our guests feel unique too. Each Luxury Suite is designed in the traditional Cycladic style, and has its own terrace with a Swimming Pool or Jacuzzi overlooking the Caldera and the Aegean Sea. Our Suites have stayed true to the original style of the Island and represent an inimitable sample of traditional Greek architecture. The privileged location of the Suites provide a nearly step free access.
These original houses were built more than 100 years ago, and renovated during 2007 by the talented local designer Francesca Tsempeli. They incorporate all possible modern amenities, while preserving the traditional architecture.

If you are dreaming of rest, relaxation and tranquillity in a stunning setting with truly personal service, then we can make your dreams come true.
Upon arrival your luggage will be taken to your Suite, where you will find a complimentary bottle of local Santorinian wine and fruit basket to welcome you.

To further compliment your stay, American Champagne or Santorinian Vinsanto Breakfast will be served every morning at your own terrace which you can enjoy, overlooking the view, while Massage & Beauty Treatments and Therapies can be arranged in your own Suite upon request.
In order to offer you the Ultimate Romance, five different Candlelight Menus are available for dinner at the privacy on your own terrace.

Although traditionally designed and furnished, our Suites offer all modern comforts & facilities:

Air Conditioning / Heating
Mini Bar
Luxury Bathrobes and Slippers
Memory FoamMattresses
KorresNatural Toiletries
Hairdryer
Pool & Beach Towels
Traditional Fully Equipped Kitchen
Safety Deposit Box in Suite
Direct Dial Telephone
Flat Screen Satellite TV
Entertainment Centre Comprising of CD & DVD Player
Internet Access
Daily Maid Service
Porter Service
Car Parking
Fax Services
Travel Agent Services
Reception with Concierge Assistance
Honeymoon & Romance packages

Whether you prefer to stay Cocooned in your Dreams or decide to find out which are the Colours of your Dreams or even wish to Dream the Ultimate Romance, we are offering you three different options that will add to your precious Honeymoon vacation or make the renewal of your vows an unforgettable romantic experience.

Cocooned in Dreams
- Limo Transportation from and to Airport or Port
- Moet Champagne on arrival
- Rose Petals and Candle Light Decoration in Suite
- Satin bed sheets to celebrate your first night
- Candlelight Dinner on your terrace
- Sunset Cocktail every afternoon
- Free mini bar refill
- Bathrobes with Dreams logo as your momento

The Colors of Dreams
- Limo Transportation from and to Airport or Port
- Car Rental for 2 days
- Moet Champagne on arrival
- Rose Petals and Candle Light Decoration in Suite
- Satin bed sheets to celebrate your first night
- Limo Private Island Tour (4 hours)
- Romantic Sunset Cruise
- Sunset Cocktail every afternoon
- Free mini bar refill
- Bathrobes with Dreams logo as your momento

Dreams of Ultimate Romance
- Limo Transportation from and to Airport or Port
- Car Rental for 2 days
- Moet Champagne on arrival
- Rose Petals and Candle Light Decoration in Suite
- Double Aromatherapy Massage in your Suite
- Satin bed sheets to celebrate your first night