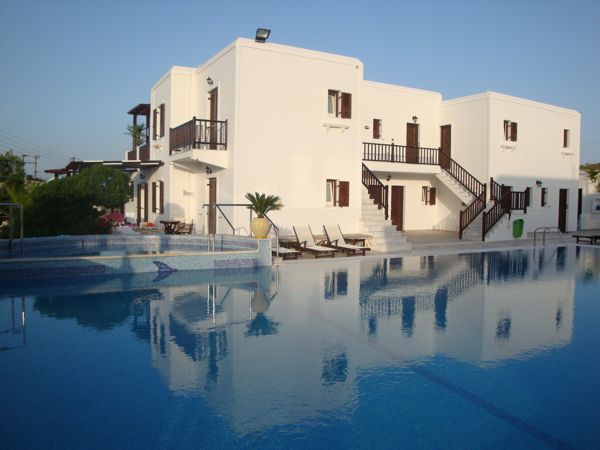 A beautiful and well established hotel on the beach of Agioi Anargyroi. Just 500m from the centre of the picturesque village of Naoussa, 12kms from Paroikia town.

The hotel's facilities include reception area with safe and fax facilities, lounge, breakfast area, swimming pool, where the hotel provides free umbrellas and sunbeds, pool bar, tennis court and parking. The rooms are traditionally furnished and are twins, triples, or family rooms (two doubles with connecting door). All have balconies or patios, with either sea or pool view, SH/WC or full bathroom, direct dial phone, hairdryer, TV, piped music and radio and ceiling fan. Baby cots are available. Children under the age of 2 are accommodated free of charge. Children between the age of 2 and 12 have a discount. Buffet-Breakfast is served.

From Matt: I stayed here in 2010 and I can say that this is one of the better family run hotels I have stayed at and certainly one of the best in Paros in terms of quality, service and location. The beach which is right in front of the hotel is clean and probably the best beach within walking distance of Naoussa. The pool and area around it was beautiful and the small bar was very nice. Going into Naousa was an easy walk and there are several routes you can take. I came back at night along the coast with a flashlight and that was fun too. The family who owns the hotel are friendly and very helpful with information about the island. The breakfast was your usual hotel breakfast but really you won't find the kind of breakfast that would satisfy an American appetite at any but the most expensive hotels and then you really pay for it. These are my photos and the only reason I don't have photos of the room, which was quite nice, is because we arrived at night and by the next day our stuff was everywhere. But take my word for it that you will be happy at this hotel. You can click on the photos to see them full size.