A True Eco-Luxury Experience in Naxos
"I created ELaiolithos Luxury Retreat and my purpose is to share it with those who are looking to fill their spirit with beauty, nature, tradition and a sense of peace while on holidays!"
Helen Marakis-Owner
These Mountaintop Suites and Terrace Have Views That Will Make Your Vacation Unforgettable!!! An oasis in the very center of Naxos island, Greece.
Secluded amongst olive groves and nestled on a picturesque plateau, ELaiolithos gives visitors the opportunity to enjoy the serenity of nature and promotes a new way of traveling in Naxos that ordinary tourists don't normally experience. The property blends seamlessly with its surroundings where history, tradition and a sense of elegance and earthiness prevails. Guests come in contact with the rich Naxian natural and cultural heritage, explore different perspectives of the island, experience local living and stay in luxury with all the comforts of a home away from home.
Above all ELaiolithos is a Cultural Experience itself……The ultimate Naxian holiday inspiration….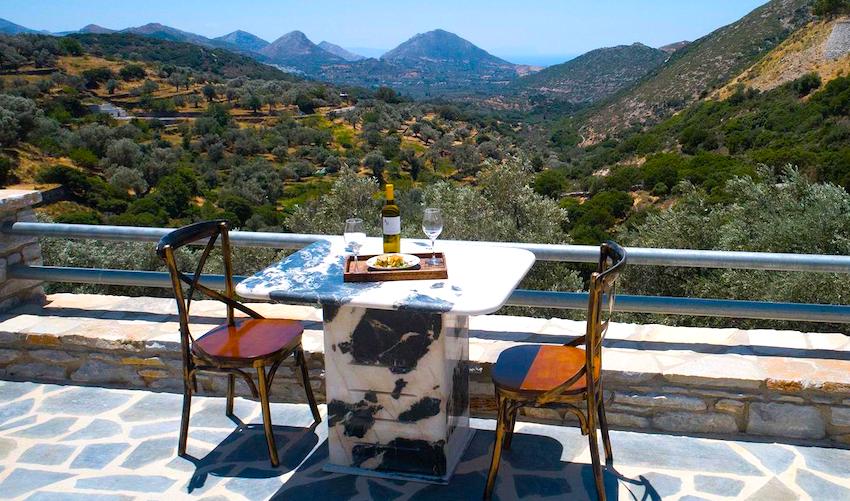 Perched on a cliff with magnificent views, the eco-friendly ELaiolithos Luxury Retreat is set in the heart of Naxos Island, less than a mile from the village of Moni, at an altitude of 1,800 feet and less than 10 miles from Naxos Town. It offers traditionally decorated units with views over Drimalia/Tragaia Valley.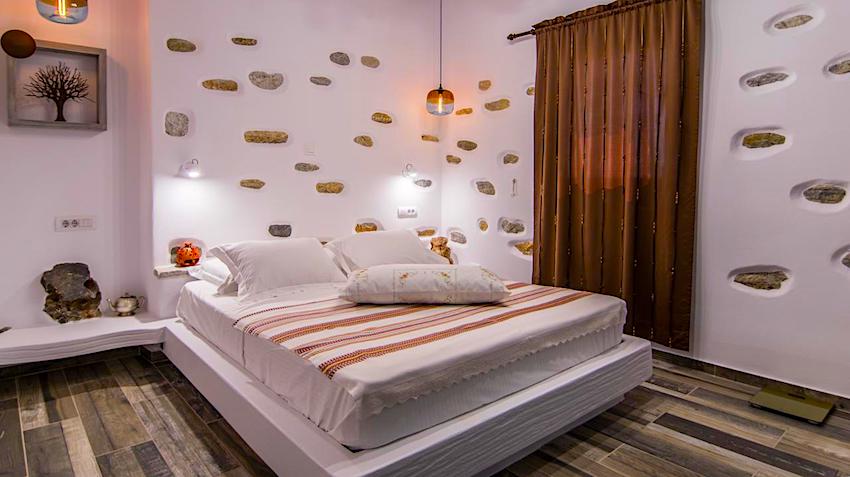 Fitted with built-in beds and traditionally decorated, the air-conditioned suites come with a flat-screen satellite TV and a kitchenette with modern electrical equipment. All units feature a dining area and/or terrace, and a marble cement bathroom. USB power sockets are available.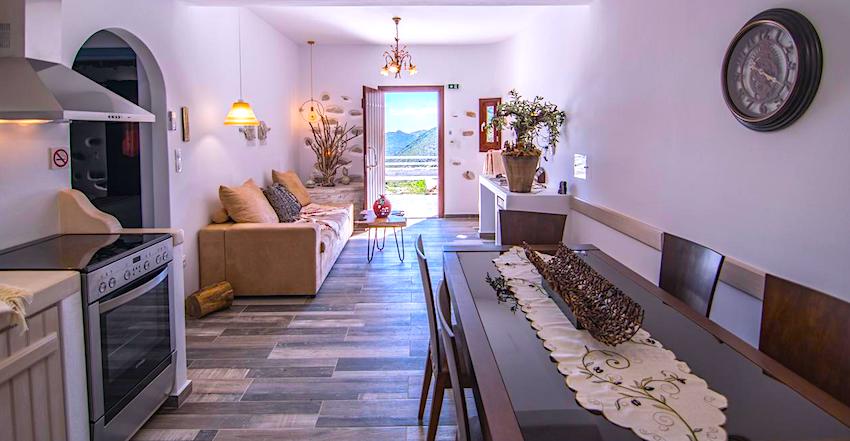 ELaiolithos Luxury Retreat in Naxos also includes a terrace where the original olive press and millstone of Moni village is displayed. Guests can eat and drink on the premises. A fresh, organic regional breakfast a la carte is prepared daily and can be enjoyed on the terrace or in your room.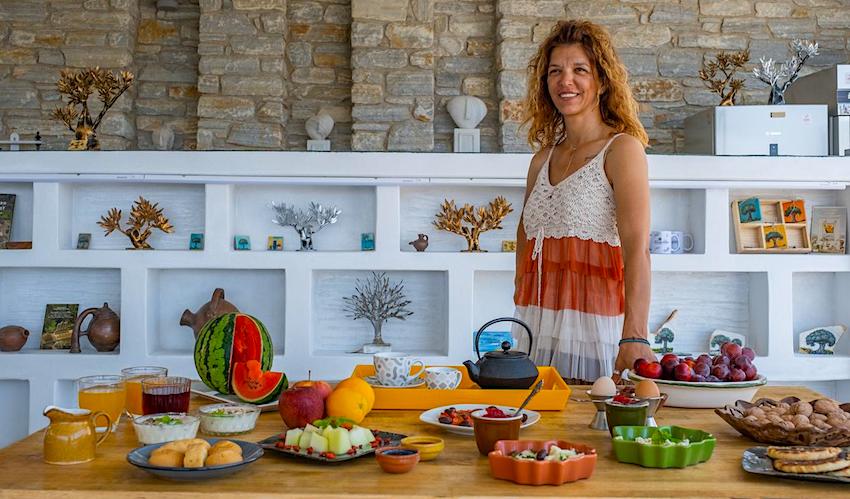 The chef and the hotel's dedicated staff can arrange private gourmet dining for the guests' convenience. Discover local cuisine with a unique wide variety of high quality regional ingredients and savor delicious signature cocktails with herbs from the mountains of Naxos while enjoying the unbeatable view. ELaiolithos has its own garden with fruits, vegetables and herbs where all guests have free access to cut them and prepare their own salads and food out of them. Loom weaving, Cooking Classes and Organic products are available to the guests. Bike hire is available at the property and the area is popular for hiking. Free WiFi is available throughout the property.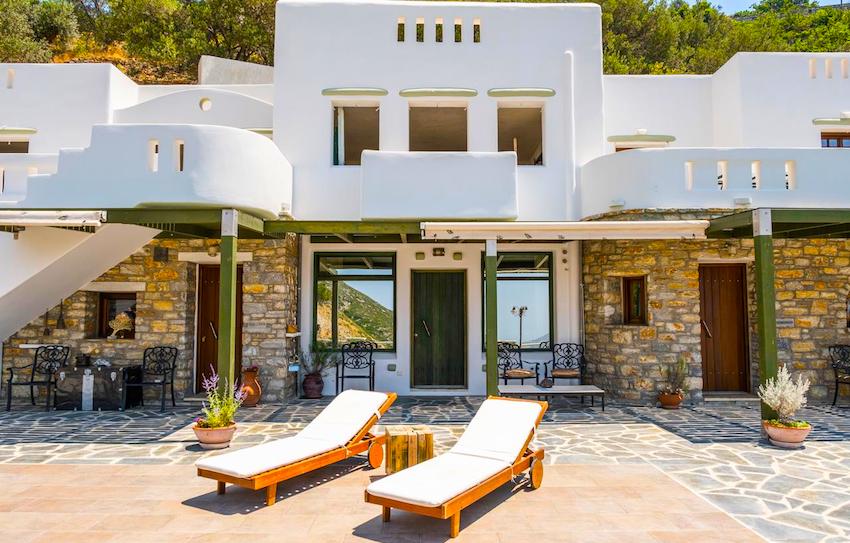 A note from Helen...
"What Makes ELaiolithos Different? It is a picturesque settlement, an art hotel - museum in a privileged location, situated on one of the most scenic areas of Naxos island, perched on the cliff between Chalkio & Moni. Brilliantly nestled in the heart of Naxos, in the hinterland, with uninterrupted view of mountains, Drimalia valley, & sea, visible from every room & the terrace. The island's most renowned attractions are within a short distance. Here time meets with history, culture, tradition and mythology. The opportunity to enjoy both the mountains of the island & its wonderful beaches in a short proximity, gives to ELaiolithos a great advantage for someone who seeks a little adventure in this Cycladic island plus the deep blue of the Aegean. You will experience Authentic Naxian local charm, hospitality and regionally inspired décor that awakens the senses with its history, vibrant landscape, culture, & traditional art. Local aroma is spread everywhere ~ every suite has its own Concept! ELaiolithos' mission is for the visitor to have an Authentic local touching experience & collect moments. This brings out the inner child and reconnects you with the earth, nature, and humanity.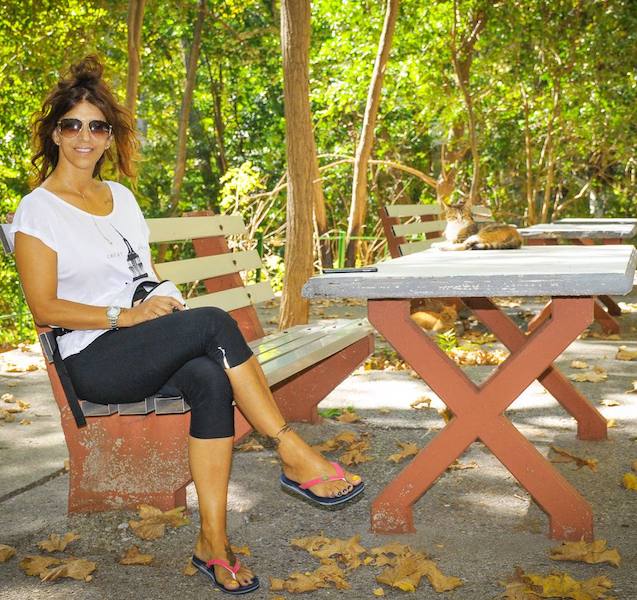 My strength: Humor – I see life with humor and freedom. I love everything that happens unconditionally. I am positive - this is the key – because there are many highs and lows along the way. I like human beings, and I love knowing and learning all about them. I love to meet extraordinary people who live amazing lives from all over the world. One thing I love about my job is the fact that I love people. My belief is that we all have gifts-talents to share with the world and part of my job is to help you get them out there by giving you incentives with my art and with the tranquility and serenity you experience while staying in ELaiolithos. I have fun discovering the similarities and differences among people of different belief systems and cultures. My discoveries have lead me to believe that everyone is basically the same with a little spice thrown in for individuality. I have been able to incorporate parts of other belief systems into my life to enhance it and become less stressed. Living in such a diverse city as New York for most of my life helped me about that a lot. Some of these discoveries are seen through art in ELaiolithos' decoration. Art means knowledge of oneself."