The Katerina Fotopoulos Rooms and Apartments are a "home" away from your home. The Fotopoulos family are there to welcome you and to tend to your needs, while you stay in your self contained apartment, with kitchenette, balcony with ocean view, en-suite bathroom, air conditioning and TV. Free WiFi is available on the patio and also reaches some of the rooms. Breakfast baskets can be served to your room, or you can make your own or go to one of the beach cafes 5 minutes walk from your apartment.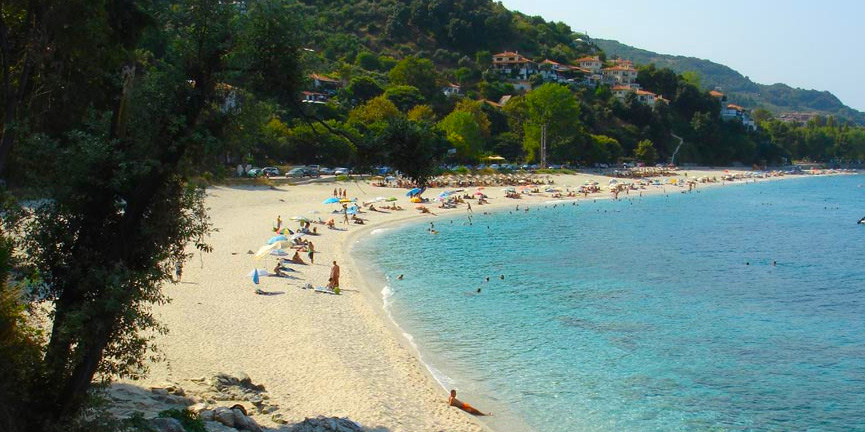 At `Katerina Fotopoulos Rooms and Apartments` you will only hear the sound of the waves, the crickets and sometimes the little parrot Filios chirping and chatting, and you will only see beauty around you, 360 degrees of ocean, olive groves, lemon trees and sandy beaches. And you will have the delight of watching dolphins, as well as playing with a big cat family!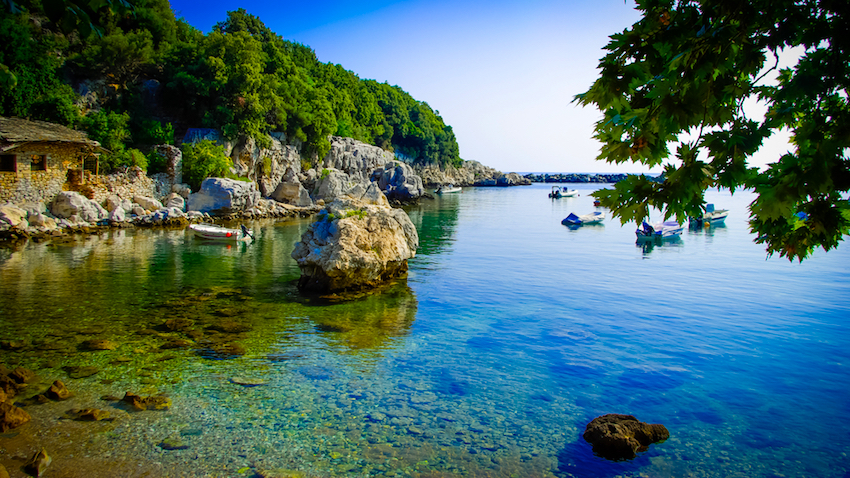 Pelion is well known for its stunning hiking routes. There are at least 10 magnificent beaches within half an hour drive from the hotel, 4 of them in walking distance, including the film set for the Dancing Queen scene of Mamma Mia at Damouchari bay. The locals are still very fond of Meryl Streep and Pierce Brosnan.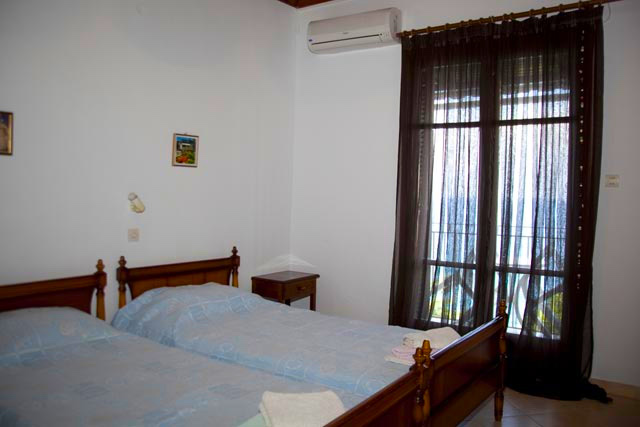 There are 10 units consisting of: One sleeping room with a double bed or with twin beds, a spacious wardrobe, and a balcony to allow you to enjoy the magnificent view of the Aegean sea, a kitchenette (with a refrigerator, a boiling ring and all the necessary dinner-things), and of course a bathroom with toilet, wash-basin and shower.
2 of them (of the 10 rooms) can accommodate families and consist of two bedrooms, each with a double bed or two separate ones, a spacious wardrobe, a large single balcony, a fully equipped kitchen and a bathroom with a shower.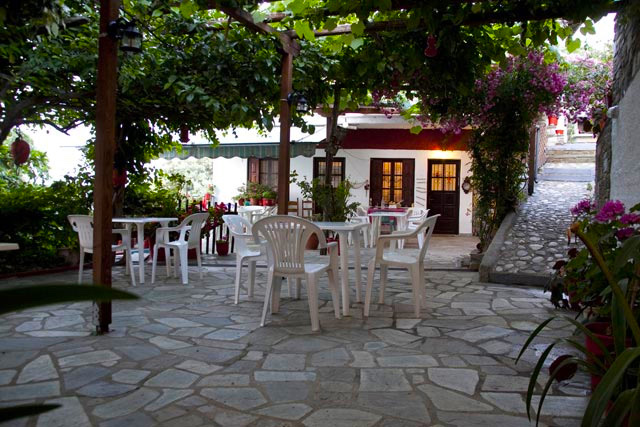 Social life in `Katerina Fotopoulos Rooms and Apartments` is concentrated on the central terrace. Most of the time you can find Katerina or her parents here.A lower part of the house is accessible via the stairs on the left which leads to a special corner of Papanero beach which is ideal for several activities such as Scuba Diving or swimming.
At the other side of the central terrace you can see a glimpse of the second building of `Katerina Fotopoulos Rooms and Apartments`, which houses most of the guest rooms. The stairs lead to the two apartments and one other room. Under the stairs you see the beginning of a corridor giving access to five other rooms. If you go up the stairs you reach the entrance to the apartments. The entrance is at ground level, however on the other side of the building the balconies of the apartments are on the second floor.
When necessary an extra bed for a child can be added to any of the properties.
Katerina speaks English, Greek, German and understands French.
House Filitsa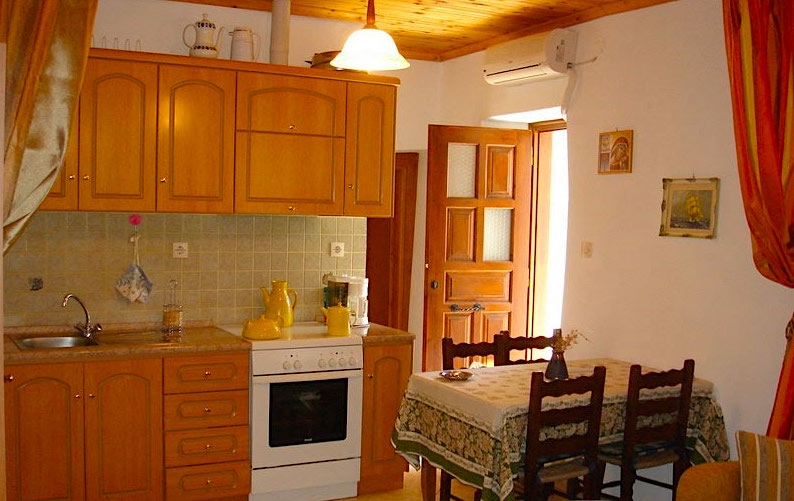 Also the House Filitsa offers accommodation for four persons. The house has a bath room , a kitchen, television, and a fireplace for those who come outside the hot Greek summer. House Filitsa is situated the village of Mouresi above the quiet Papa Nero beach. Mouresi is the main village of the municipality to which belong the seaside resorts of Agios Ioannis and Damouchari, and the famous beaches of Papa Nero, Fakistra and Milopotamos. Mouressi is one of the most attractive villages lying at the foot of Mount Pilion (Pelion) and almost lapped by the crystal clear waters of the Aegean Sea.
In this ideal combination of sea and mountain surroundings, far away from the bustle of towns and pollution we are ready to be of service to you and help you enjoy a pleasant, peaceful and comfortable stay in our House Filitsa within 5 minutes driving from Papa Nero Beach.
Greetings from beautiful Pelion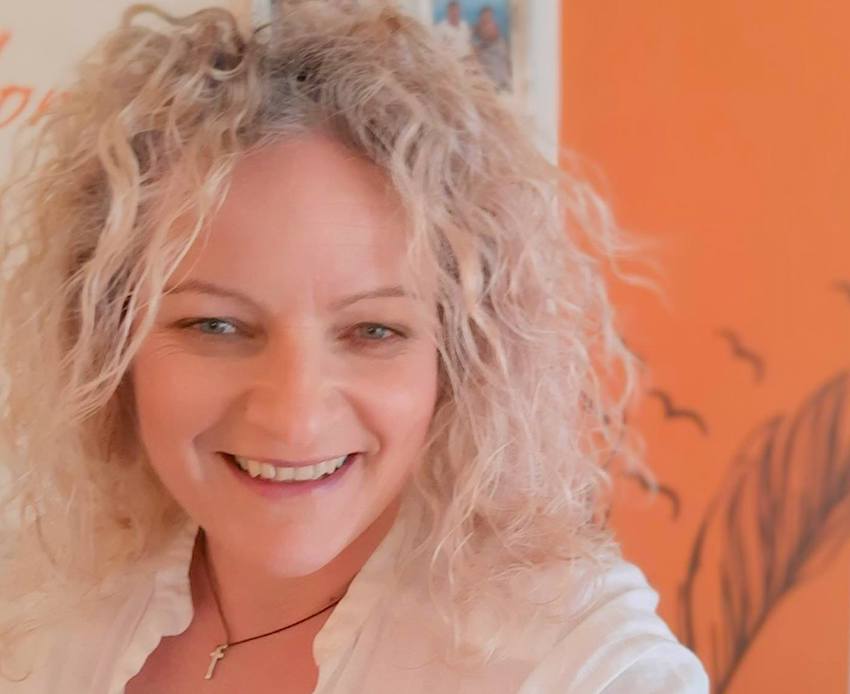 I am Katerina Fotopoulos. My rooms can accommodate individual guests or groups that would like to have a yoga retreat since I have a wooden deck of 75 square meters above the sea side.
Our apartments and rooms are perfect for families with children that want to have a peaceful holidays surrounded by nature with the perfect combination of mountain and sea. There are lots of activities like swimming, hiking paths, boat trips, snorkeling and more which I can always provide information if needed. We are open from May to October.
I can also organize the transfer from the airport, bus station providing offers depending on number of people for taxi vans(9 persons),taxis(4 person) or mini bus for groups.
Anything a guest would like to know I am always here for them during their stay. We also have a physiotherapist who on request over weekends provide massages or whatever therapies that guests might need.
I hope to see you here!
Best regards,
Katerina Fotopoulos
Hotel Booking Information
To book directly with the hotel or for more information click here to use our form.