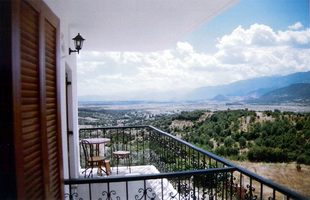 The Hotel-pension ARSENIS is built in the middle of an olive grove with full view of the Meteora cliffs and the Thessalian plain, located in the eastern area of Meteora. It has a marvelous view of the cliffs, the plain of Thessaly and the mountains of Pindos. It is the closest accommodation to the monasteries of Meteora and is located 4 minutes from the town of Kalambaka. It is recommended for its excellent services by many tourist guides such as, Marco Polo, Michael-Muller, Dumont, Nelles-Guide-Griechenland, Guide de Routard, Lonely Planet, and now Matt Barrett's Greece Travel Guides. The Arsenis is popular with tourists and Greeks who visit Meteora on a year-round basis.
The Arsenis guesthouse is a family enterprise and offers its guests traditional hospitality in its purest form.

The pension is a family business run by the Arsenis family and here you will find traditional Greek hospitality in its most unspoilt form.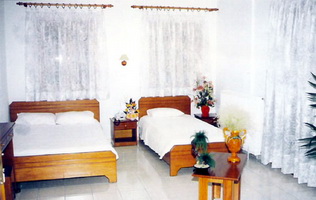 The pension ARSENIS offers a cultural ambience with two bedded and family rooms, all with a fantastic view of the surrounding countryside. The hotel is comprised of 16 double, triple and family rooms. All the rooms are spacious, fully equipped and provide a bathroom, air-conditioning, television, central heating and a fantastic view.
There is also a popular restaurant where breakfast and meals are offered, a bar and Sat TV. For the cold winter months central heating and a fireplace. At the hotelís restaurant a sumptuous breakfast is served.

You will enjoy tranquil and relaxing holidays and the cleaniness of the pension will surprise you.

Directions....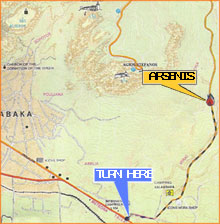 Driving from Trikala to Kalampaka, just before the town entrance, turn right to the way that leads to Meteora - there is a sign (just opposite a petrol station of EKO) After 2.5 kilometers you can see the guesthouse on the right side of the street. From there you can be in the Meteora monasteries in less than 5 minutes. Also in 5 minutes you can be in the town of Kalampaka (if you want to look around or visit the Byzantine temple of the 11th century). Meteora is about a 5 and a half hour drive from Athens so be sure you leave early to give yourself enough time to arrive while it is still daylight. The roads from Athens are well marked in English and easy to follow.

For those who come from Ioannina, after you pass the town of Kalampaka, at the town exit, you should turn to the left to the way that leads to Meteora.

You will come as a guest and leave as a friend. With the guest house as a starting point you can discover the surrounding area, with daily excursions and visit Lake Plastira, Pertouli, Metsovo and the villages of Aspropotamos as well as the amazing monasteries of Meteora which are literally right in the backyard.