TITANIA - A' class - Downtown Athens
In the heart of Athens between Syntagma and Omonia, the city's major squares, Titania has been offering the kind of hospitality and service that have made it a paragon of excellence for over thirty years. Titania's central location puts Athens' history, culture, shopping district, public transportation and vibrant night life within easy reach of Hotel guests, who can also take advantage of the Hotel's convenient 24-hour parking. With its legendary hospitality and unprecedented service, Titania Hotel welcomes you to your home in Athens.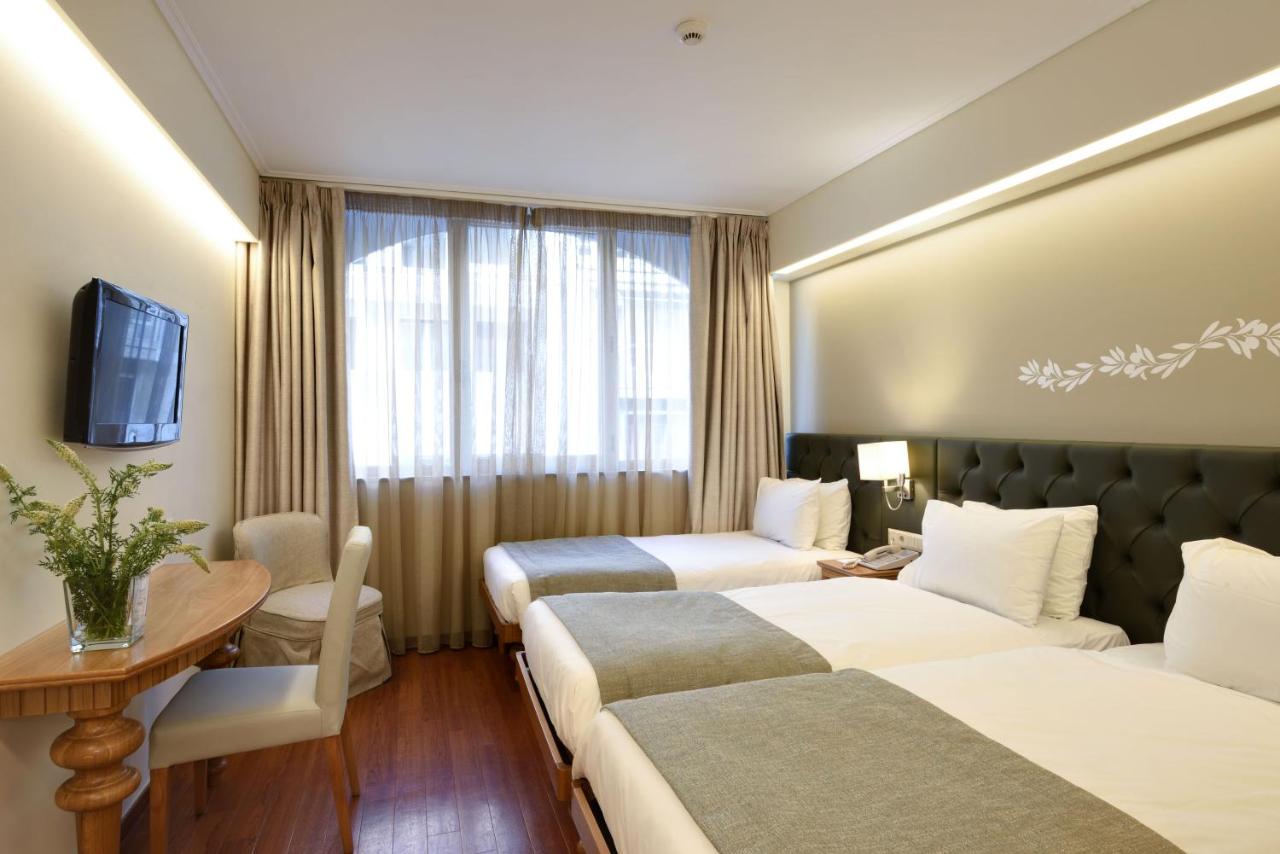 Each of Titania Hotel's 385 tastefully decorated, soundproof rooms is equipped with thoughtful modern amenities and state-of-the-art technology to provide the ultimate in comfort, convenience and functionality: air conditioning; satellite and cable television; digital pay movies (Quadrica-Genesis); minibars; private in-room vaults; spacious bathrooms with luxury amenities (which feature Jacuzzis in suites only); 24-hour room service; high-speed internet access (via television set); ISDN lines; PC outlets and fax and modem ports.

Titania Hotel's legendary hospitality, unparalleled service, comfortable rooms and convenient location will make you want to come back time and again.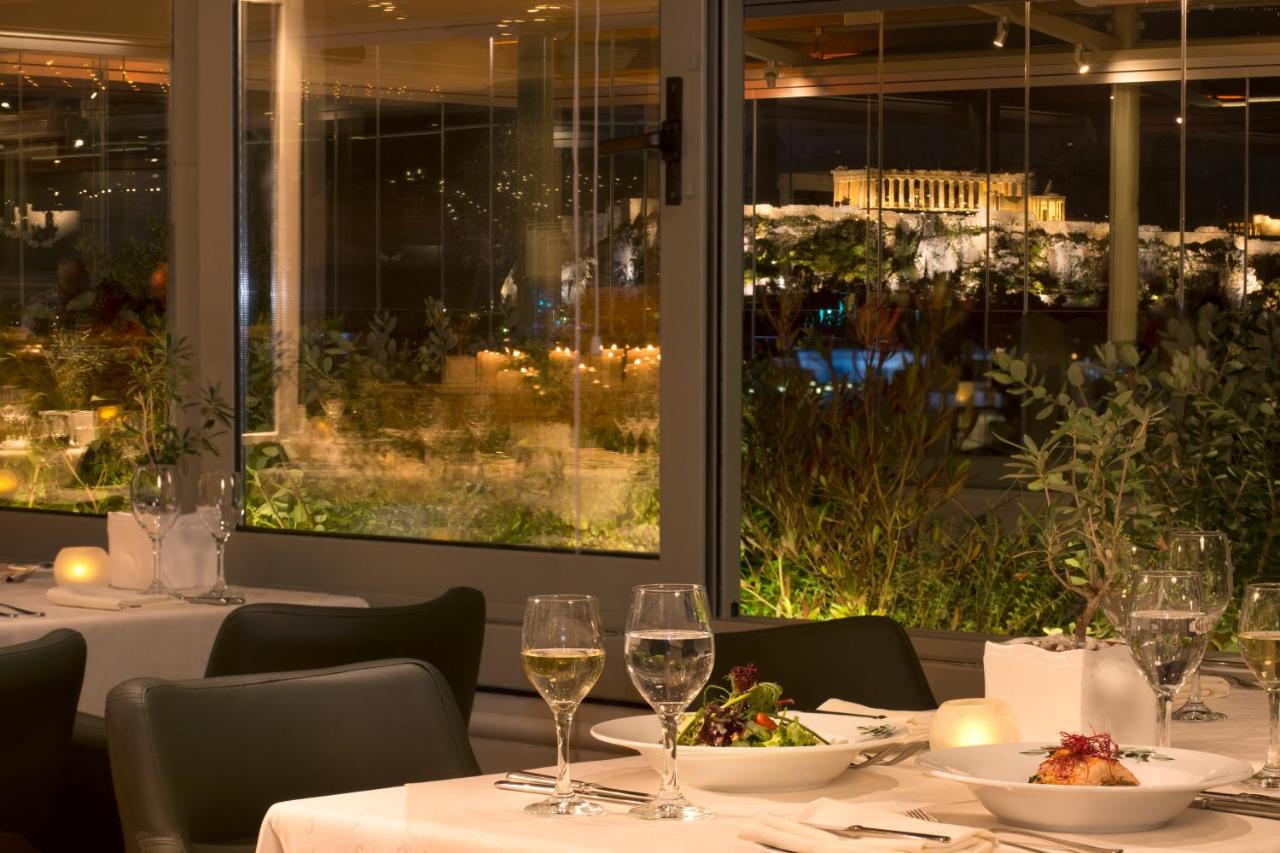 Restaurants & Bars

La Brasserie Cafe - Restaurant

If you want to get to know the true character of Athens, visit one of the city's favorite hangouts. Eat and run or dine and dally; La Brasserie is the place to go for a good meal at a good price. From this cozy yet elegant vantage point, watch the city flow like a river before your very eyes while you take in a consummately prepared snack, lunch or dinner from a refreshing repertoire of light Mediterranean dishes. Or find a quiet corner in which to read the morning paper over a cup of freshly brewed coffee, morning, noon or night. La Brasserie's emblem, a decorative ceramic roof corner tile inspired from an exquisite ancient Greek anthemion design discovered in an old Athenian neoclassical house, is also emblematic of its cuisine, spirit, and decor; the best of ancient and modern Hellenism in perfect harmony.

Olive Garden

Haute cuisine, literally and figuratively, Titania Hotel's rooftop Olive Garden Restaurant also provides an exquisite haute feast for the eyes, with its stunning panorama of the Acropolis, the Lycabettus and the city beyond. Modern yet romantic, cosmopolitan yet Greek, upscale yet subdued, the Olive Garden is an urban oasis for Hotel guests and Athenians alike. With its impressive olive grove, this chic Athenian institution has won awards both for its tasteful appearance and its gourmet cuisine by the City of Athens as well as countless other organizations. It has also won the admiration of food critics for its wide array of superb dishes from all over Greece and the Mediterranean as well as for its exclusive international wine list. Stop in for a fabulous business lunch under an Attic sky that is a kaleidoscope of ever-changing colors. Indulge in a cocktail or two from the bar. Have a romantic dinner by candle or moonlight, with live piano rippling in the background. Where else can you say you've dropped in for a bite to eat and have virtually been served the Acropolis on your plate?

Hotel Booking Information
To book through Dolphin Hellas Travel click here. This is recommended if you will need flight or ferry tickets, other hotels, tours, cruises or more assistance and you want to deal with a human being and not a computer if something goes wrong. You can also see more photos, maps and reviews and Book through Booking.com if you are just booking for a night or two.