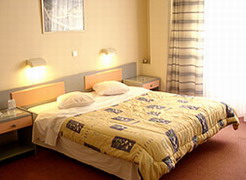 The C-Catagory Myrto Hotel is small family run business located in the Plaka. It has twelve cosy rooms and a sense of home comfort and personal approach which it is difficult to find in enormous mainstream hotels in Athens. All rooms have private bathroom TV, telephone, air-conditioning .

Two of the most important arguments for choosing the Myrto as a place to stay are the safety of area and the proximity of famous sightseeing places. The Plaka is the most picturesque, safe and pleasant region of Athens. Plaka is the ancient city of Athens, situated at the foot of Acropolis, the symbol of Greek civilization. Music, restaurants, beautiful shops, lighted crowded streets, interlaced with quite side-streets including Nikis street where the Hotel Myrto is located.

It is also very easy to reach the Myrto Hotel from the airport with the metro line or bus (see airport information) whose final stop is the Syntagma Square, the political centre with the houses of Parliament and the residences of Greek President and Prime Minister in the National Garden. This is only five minutes walk from the Myrto Hotel. The hotel is only 20 minutes walk to the Acropolis and only 3 blocks from the main shopping district of Ermou Street.
Customer Review: We stayed at the Hotel Myrto, on Nikis Street just between the Plaka and Syntagma. I wish you would put this one on your recommended list. We found this hotel to be an excellent budget hotel and will not hesitate to stay there next year. It is a family run hotel; they have only had it 18 months or so and are trying to improve. There are only 12 rooms. Firstly though, It is an old building and I think the decor and rooms are of 2 star quality - except for one thing - they are much larger. I was surprised at the size. Secondly, the service: this is 4 star quality. We had fresh flowers every day. Rooms were kept spotless. There were slippers and dressing gowns provided when we arrived (we have been to better hotels and not had this). The people of course were very nice and friendly. What was really excellent about it also was the breakfast. We spoke to businesses close by and they said that Ilias does the 'best breakfast in Athens' - but we had already found this out for ourselves! All you can eat and drink, rolls, cereal, sausages, eggs, whatever you wanted. There were 4 adults in our party and we all felt the same about this hotel.