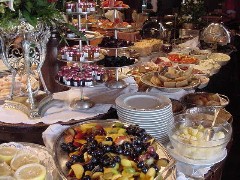 Breakfast at the GB Corner of the Grande Bretagne is worth whatever they charge (ours was free). There is a buffet table that looked like it came out of Martin Scorcese's The Age of Innocence with so much food on it I didn't know where to start. They called it the American Breakfast Bar and sure enough the restaurant was full of Americans as well as Europeans who looked like they just stepped out of a John Le Carre novel planning the overthrow of nations or corporations over bacon and scrambled eggs. And indeed in the past (and for all I know the present), the GB Corner Bar and Restaurant has been a place where high stakes players, spies, diplomats, princes and oil ministers have rubbed elbows with normal people like you and me.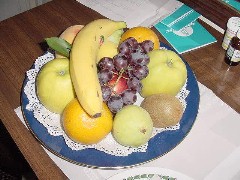 The type of service they provide at the Grande Bretagne is something we had never experienced before. It seemed like everytime we used a towel a new one arrived to take it's place. We would return home to our room from the Plaka and find the bed covers folded over neatly so we could just climb in and a small chocolate candy placed on it. Not only that but they would place a cloth napkin (or whatever the word for it is. I am sure there is a name for this) on the floor by the bed so we could go from our shoes to the bed without our bare feet ever touching the actual carpeted floor. One day we arrived home to find a big bowl of fruit with a note from the manager sending his best wishes. OK. Maybe it was because they had heard of me and wanted to give me a good impression, but for all I know everyone gets this treatment, in fact they probably do and my feeling special was just self -delusion. And what other hotel do you wake up to find the International Herald Tribune and the Athens News hanging from your doorknob.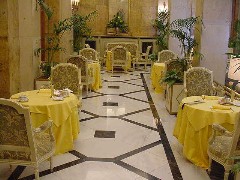 So the last couple days we spent most of our time in the hotel. We would venture out for lunch meetings and maybe to shop, and one night Andrea and I went around the corner to the Cafe Neon for fresh pasta while Amarandi went with her grandmother to MacDonalds, two of the many fast food restaurants within a block of the hotel. That's not exactly a selling point with me either but for some people this is important. If you are not into Greek food and you have the money then don't bother leaving the hotel because the GB Corner restaurant will make you feel right at home. And with us the only arguements we had was over which room to eat our breakfast or have coffee or tea in, the GB Corner or the Winter Room.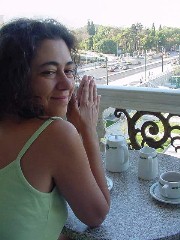 When it was time to leave the hotel we were pretty sad to go. Even Andrea was realizing how good she had it and we had long discussions about our difficult re-entry to the real world where unknown people did not come around to make your bed or pick up your dirty socks or leave breakfast menus for you to check off and leave hanging on the outside of your door before you went to sleep so that you would have it when you woke up in the morning. Perhaps we would never again be satisfied in the real world. But before we could sink into deep depression we were informed that we did not get seats on our wait-listed flight and we would have to stay another day. Yay!
We celebrated with breakfast on the balcony.
Of course Mike Constantinou could not have been very pleased. Remember him? He's the guy who was paying for this and at this point he was probably wondering if we wouldn't get on the next flight either. Well we did. I was not to thrilled about leaving but it was either the Grande Bretagne or my family. I could not afford to support both. And I don't think Mike was ready to put me up in the old hotel for the rest of my life.