Plaka, Athens
The Electra Palace is a fully air-conditioned Luxury-category hotel right in the middle of the Plaka with a spectacular view of the acropolis and downtown Athens and a rooftop pool. I stay here often, especially when someone else is paying for it. You can't beat it in terms of location and in quality it is slightly below the Grande Bretagne but you probably won't know the difference.
Reviewed by Matt Barrett
The rooms in the Electra Palace Hotel are large, with plenty of storage space, a fridge and mini bar, safe, satellite television with pay movie channels, and internet (if you pay for it). My favorite thing was the shower. I don't know how it is possible that in the middle of August with the temperature averaging in the nineties, the cold water feels like you are standing under a waterfall in the mountains of Switzerland. There is nothing more refreshing then a cold shower after a walk to the Acropolis. And should you find yourself in Athens during one of the snowstorms that occur once very five hundred years, the hot water is just as good.(I tested it myself). If you can afford a suite then go for it and make sure it has a view of the Acropolis.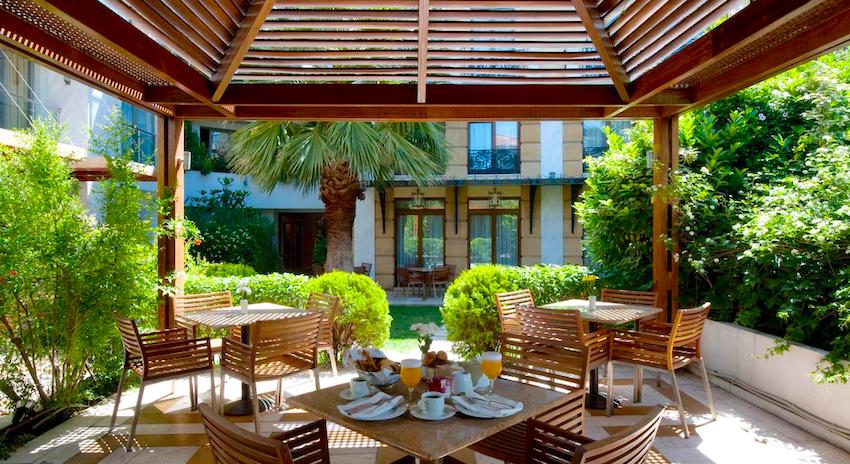 Breakfast at the Electra Palace was beyond my expectations. Few breakfast spreads we have seen could compare with the buffet here. Scrambled eggs, fried eggs, sausages, pancakes with syrup, home fries, bacon, fruit salad, fresh yogurt, fresh melons, cheeses and meats, toast, marmalade, roasted mushrooms, several different types of bread and rolls, fresh orange juice and great coffee. Hotels in Greece don't seem to take much pride in their breakfast. In a country where hotel breakfast usually consists of coffee, bread, butter and marmalade, and a boiled egg if you are lucky, the Electra Palace has taken into consideration the philosophy that it is the most important meal of the day nutritionally. For a tourist to have the energy to go out and explore the sites of Athens, he will need more then strong coffee. For a little extra boost there is excellent espresso if you don't get off from the endless cups of coffee they serve you at breakfast.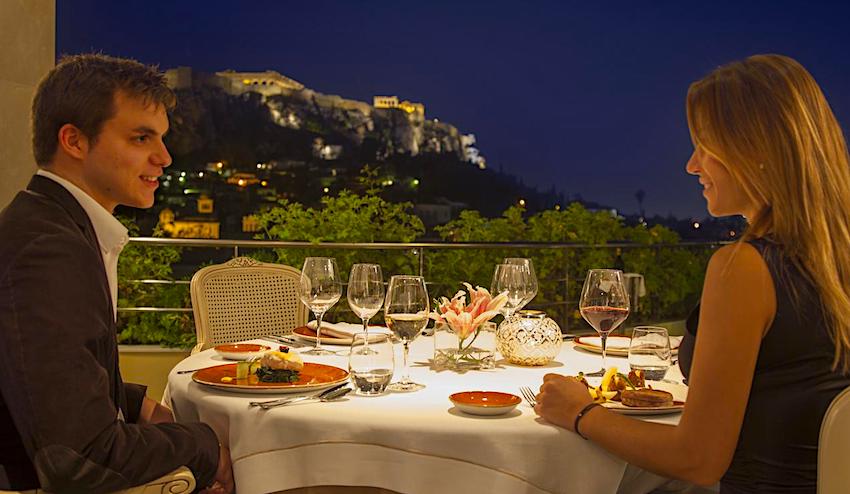 When the sun goes down you are a block or two from the center of the Plaka where you can wander around visiting all the shops that are air-conditioned, find an air-conditioned restaurant or go to the Cine Paris and watch a movie on the roof while fanning yourself with your program. While most people are sweltering and dreading the return to rooms that are not air-conditioned or miles away with no taxis in sight, you can be secure in the knowledge that you have left the AC running and your own semi-arctic paradise is but a few steps and one cold shower away. Or you can just stay at the hotel and eat in the 5-Star Restaurant with a romantic view of the Acropolis.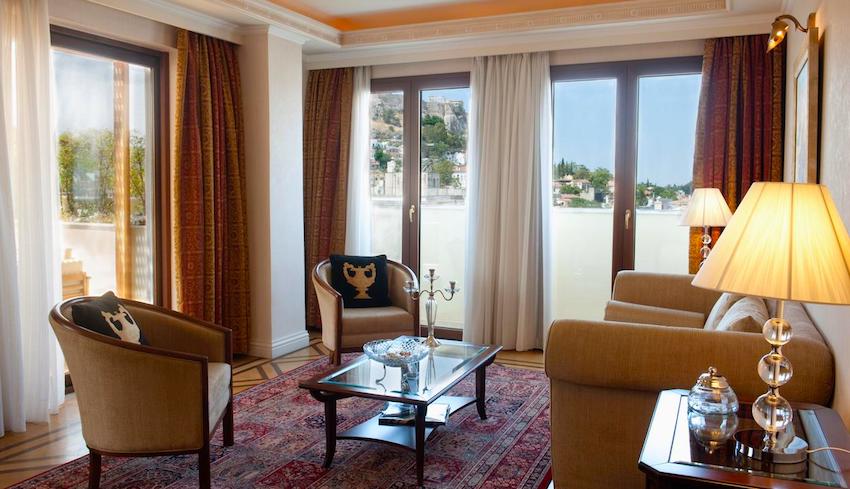 The hotel also has conference and banquet facilities, and more importantly, babysitting. Its a great place to stay in the winter especially during Apokreas. But the best thing of all is the pool. If the top of my head had not gotten so hot I would have stayed in it all day. There is also an indoor pool in the basement as well as a fitness center.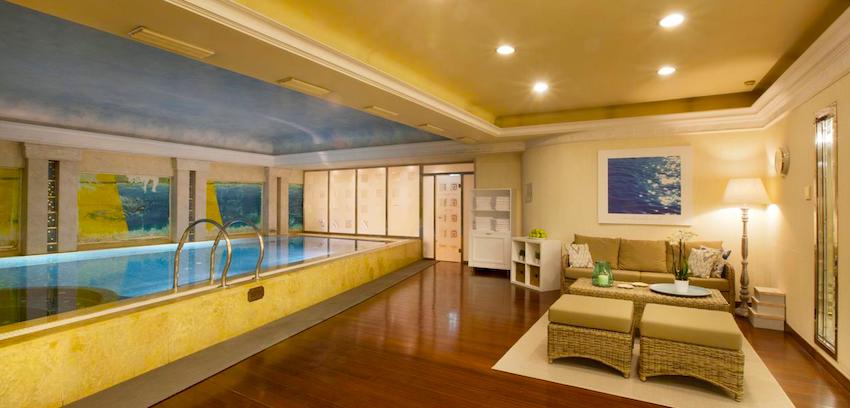 In the last few years the Electra Palace went through a year of extensive renovations and it is bigger and better than before! The reason is because they bought the property next door and doubled the size of the hotel. That means where before it was difficult to get a room because of the hotel's popularity with businessmen and 'regulars', now there should be availability.
You can book or get rates and more information about the Electra Palace through Fantasy Travel . And when you get to Athens you can visit your travel agent and talk about the rest of your plans because their office is only a block away. Usually their rates are cheaper than those you will find anywhere else and they will often have rooms there even when major hotel booking sites say the hotel is full.
Hotel Booking Information
To book through Fantasy Travel click here. This is recommended if you will need flight or ferry tickets, other hotels, tours, cruises or more assistance and you want to deal with a human being and not a computer if something goes wrong. You can also see more photos, maps and reviews and Book through Booking.com if you are just booking for a night or two.
Help Support Matt's Greece Guides
Do you enjoy using my site? Have you found it entertaining as well as useful? If so please show your appreciation by booking hotels through the travel agencies who contribute to my website when you book. If you are appreciative of all the free information you get on my websites you can also send a donation through Paypal or Venmo
Join Matt Barrett's Greece Travel Guides Group on Facebook for comments, photos and other fun stuff. If you enjoy this website please share it with your friends on Facebook and other social media.