Pyrgos, Santorini
ZANNOS MELATHRON Hotel - Cat. Deluxe - In Pyrgos, 6kms from Fira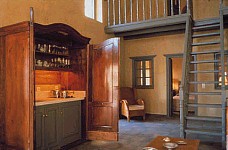 Zannos Melathron (melathron means mansion in Greek) was built in the 19th century by Michael Zannos, a master of the time. Along with an adjoining renaissance architecture villa built in 1750, the two buildings comprise a brand new deluxe hotel. Both buildings have been proclaimed preserved cultural and architectural monuments by the Greek State. Their restoration has been supervised by the ministry of culture and the artistic coordination of Mr. Giannis Tseklenis. The hotel is situated on Pyrgos, the highest location on the island, at the entrance of the medieval castle of Kastelli, enjoying an unobstructed view of the entire island and the Caldera at the distance.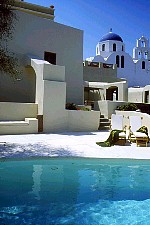 Beautifully designed and decorated, the Zannos offers a very high standard of accommodation. Facilities & services: 24 hours reception desk, 24 hours concierge, twice a day cleaning service public areas (lobby, living room, dining room) with high-ceiling paintings, antiques and modern art, terrace which functions as a wine bar and full bar serving on lower terraces and preparing gourmet snacks, 20 hours room service, fast laundry service at anytime during the day, a beautiful swimming pool carved in the stone. The rooms are just as beautiful and welcoming and include an ISDN line, fax and easy access to the Internet with Email-service, satellite TV and stereo hi-fi equipment, electronic safety box and security locks on the doors, fully air-conditioned, direct dial phone, mini bar, hairdryer, bathrobes and slippers, bath tokens.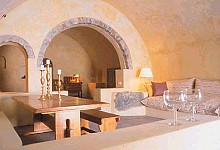 There are rooms of different sizes and layout. These are the following:
Double suites (1-2 persons): 1 bedroom (double bed), living room, bathroom with bathtub (except for 1 unit that has a shower)
Senior suites (up to 3 persons): 1 bedroom (double bed), spacious living room, bathroom with bathtub
Superior suites (up to 4 persons): 2 bedrooms (double beds), spacious living room, 2 bathrooms with bathtub
Master suite (up to 6 persons): This apartment has its own private interior courtyard, 3 bedrooms (double bed), spacious living room, 3 bathrooms with bathtub.
The rate for the master suite is on request. The hotel has a special honeymoon package (7 days).
(Please contact Dolphin Hellas for rates and details.)
Hotel Booking Information

To book through a recommended Greek travel agency click here. This is recommended if you will need flight or ferry tickets, other hotels, tours, cruises or more assistance

If you just want to book this hotel and won't need the assistance of a professional travel agency click here for booking information, more photos and low rates.