The A-Catagory 9 MUSES HOTEL, combines the most modern of facilities, to satisfy the demanding visitor of today. Nine Muses Hotel is located near the Village of Perissa, only 150 meters from the Black Beach, which stretches for 9 km.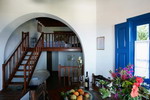 Every room is air-conditioned, has its own balcony, three-channel radio, a telephone with a direct outside line, a mini bar and safe. The suites and maisonetes are also equiped with television sets.
Room facilities: Bath tub, air condition, heating, direct dial phone, radio, hairdryer, satellite TV, frodge, safe box.

Gourmets and connoiseurs will find everything to please the palate and the eye in the ideal setting of the friendly "TERPSICHORE" restaurant. The snack bar which is open all day and the taverna, by the blue waters of the pool, offer guests a sample of Greek hospitality. The "ERATO" bar which is atmospheric lighting and carefully selected music provide a blend of tasteful simplicity and exotic glamour.

At a very short distance from the hotel, along the beautiful coast, one can also find all that is necessary for the enjoyment of a variety of water sports. Also: a childern's playground and swimming pool.

Hotel facilities: Main restaurant, pool bar, taverna, main bar, shuttle service, public beach, baby sitting (on request), own chapel for mariages.

Sport facilities: Swimming pool with underwater music, children's pool , whirl pool with jacuzzi, airbath, jetstream, cortina, fitness center, sauna, massage (private masseur), tennis court, table tennis, water sports (at the beach).