Naxos Town
CHATEAU ZEVGOLI HOTEL is a B' class hotel located in Naxos Old Town, Naxos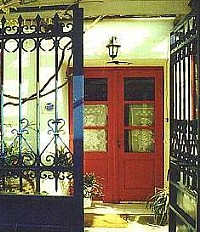 A lovely traditional hotel situated in the historical part of Naxos town, right beneath the impressive Venetian castle, the Kastro. It is up on the hill in quiet surroundings behind winding alleyways, about 800m from the beach of Aghios Georgios and 300m from the sea front. There are many steps to the hotel, and assistance with the luggage is available upon request.

Passing through the little flowered patio at the front, one enters an attractively furnished breakfast area (enlarged continental breakfast, including among other things a variety of season fruit and local products) with TV lounge and reception area, decorated with antiques. The hotel has only 10 rooms accessible by stairs behind the small courtyard behind.

All of the rooms are beautifully decorated with antique furniture and with an eye for detail, each room individually furnished and decorated by Mrs. Despina, the owner -e.g. different colour combinations, different commodes and hand-made curtains. Most of the rooms have double iron beds and 2 are twin-bedded rooms. These latter rooms have A/C while the rest of them have fans. All with private SH/WC and direct-dial phone. Some have balcony.

The hotel staff, three very polite Philippine ladies, offer upscale services, change of towels every day and of linen every second day. Generally speaking, Chateau Zevgoli is ideal for honeymooners, being beautiful, traditional within the romantic ambience of the castle, located away from the bustling harbour. Children under 2 years of age are free, children between 2 and 12 years old are charged as a 3rd adult.
Hotel Booking Information

To book through a recommended Greek travel agency click here. This is recommended if you will need flight or ferry tickets, other hotels, tours, cruises or more assistance

If you just want to book this hotel and won't need the assistance of a professional travel agency click here for booking information, more photos, guest reviews, maps and low rates.