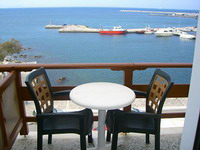 Hotel Coronis is situated on the main road, in the centre of the town, and as such it is right in the center of Naxos town, with immediate access to restaurants, shops, bars, and public transport. A perfect location, at the seafront of Naxos Town and just a breath away from all amenities. The Hotel has 30 beautifully decorated rooms, all with private balcony offering a great view to the sea and the yacht marina on the town. The pale colours used in the rooms' décor create a warm and relaxing atmosphere to make the most of your stay.
Hotel Facilities & Services include: Bar, Internet, Lounge with Satellite TV, , Breakfast Room offering a rich Buffet Breakfast, 24 hour Reception, Elevator and Safe box.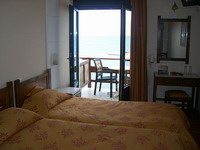 Room Facilities include:Fridge, Bathroom, Air-conditioning, Music, Satellite TV, Direct dial phone, Hairdryer, Balcony with view to the sea, the sunset and the castle.The Hotel Naxos Beach II is located 800 m above Aghios Prokopios beach with a panoramic view of the beautiful beach and the sea beyond it. This 4 star hotel offers bungalow-style rooms in charming stone buildings, each with the comforts of air-conditioning, satellite color TV, a telephone, radio, hairdryer, safe box and self-catering facilities. The beautifully laid-out grounds of Naxos Beach also house a restaurant and bar, a TV lounge, a beautiful swimming pool with a mosiac made-of tiles picturing the Naxian Apollo Gate and a poolside bar. There is also a tennis court.
Aghios Prokopios is located 3 km from Naxos Town. There are a few tavernas and markets about 1 km away from the hotel in Prokopios village.