Mykonos Town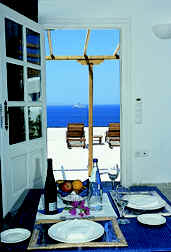 Apanema is a very small hotel with just 17 rooms/suites. It is located right on the waterfront, in the Tagoo area which is right next to the Mykonos town port, with sunset view, and less than 10 minutes away by foot from town center. All rooms are quite large by Mykonos standards and are Junior suite equipped, meaning they all have a sitting area with a full size sofa with coffee table and chairs. You may choose between soft or hard mattresses and bath amenities from Trussardi or Hermes. The rooms come with king size beds except for few with single beds. All rooms have bathtubs except one with a shower for those who prefer it. Wi-Fi access points are available at selected areas and rooms.
The Restaurant is open for breakfast until 13:30 in the afternoon. Included in the room rate is full continental breakfast with fruits yogurt cereal muesli e.t.c. One may also choose from our breakfast menu eggs prepared in any way, pancakes, waffles, etc sandwiches etc, and due to our small size and given some time in advance we will prepare anything you may wish from our restaurant during the day.
The following types of rooms available. The reason there are so many types is because they are more like individual bungallows than the same type of rooms in a big hotel.

Standard double. (side, partial, sea view)

Standard Double, upper floor ,side view, partial sea view)

Superior (direct sea view)

Deluxe double (direct sea view, larger size room)

One bedroom suite. One livingroom, one bedroom, one bath and one
W.C.(additional items:DVD player, surround sound, 27" tv, small collection
of DV disks)

Two bedroom suite, as above but with two bedrooms.
An extra bed can be added in all rooms at plus 25% of the room rate.
Please also note that there are two standard and two superior rooms with interconnecting doors.

This will be the third running year for Apanema, but it has already received great reviews while the accommodation and restaurant have been included in the Alpha Guide, Golden List, and Great small hotels in Greece, that include Greece's best along with many other publications. In Golden list and Great Small hotels in Greece, photos of Apanema have been selected for the cover. As of 2004, Apanema is included in the Conde Nast Johansens recomended hotels.
Apanema is within walking distance from town center and right on the waterfront with sunset view and has its own parking area for the hotel guests.
Hotel Booking Information
To book through a recommended Greek travel agency click here. This is recommended if you will need flight or ferry tickets, other hotels, tours, cruises or more assistance