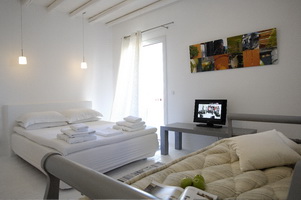 Capetan Tassos is a relatively small accommodation facility located 150 m. from the beach and 200 m from the picturesque fishing village of Pollonia, 11 km from Adamas and the port.
Each of the 4 apartments (for 4-5 persons) has 2 bedrooms, one bedroom fully private and the other with a fully equipped kitchen.
The 9 studios (for 2-3 persons) consist of one bedroom with a kitchenette.
All units have either a balcony or veranda with sea view and are built and furnished in the Cycladic style with vivid bougainvillea offset against the white wash walls and with vines being cultivated in the back yard of the complex.