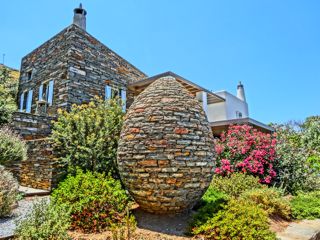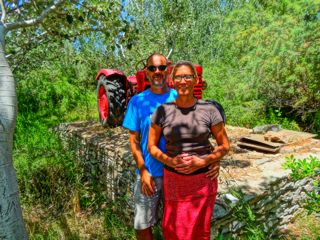 Korissia, Kea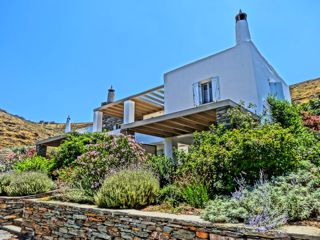 The Red Tractor Farm is a family run guesthouse and cannery on the Cycladic island Kea (Tzia). We have three separate two-story houses, each beautifully designed for the utmost comfort and practicality of our guests. Each house has a living room upstairs with a slightly raised sleeping platform as well as a desk and access to wireless high speed Internet connection. There is a shower/w.c upstairs as well as down-stairs. Downstairs there is an additional bedroom with 2 single beds or 1 double according to your needs. All stairways are child-safe with doors and half-doors on either end. Natural light is a key feature of our design indoors as well as outdoors. There are shady seating and lounging areas on both levels as well as sunny spots for sunbathing. It is possible to rent one floor only of a guesthouse, when available.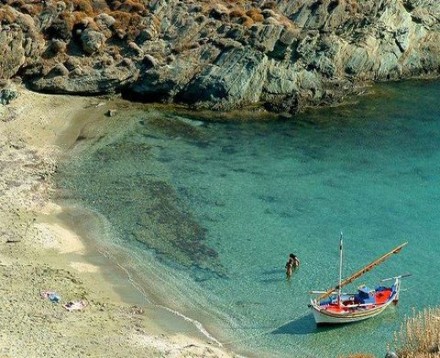 Red Tractor Farm is located at the edge of the port village of Korissia. The port beach is at the end of our road and a second sandy beach, Yialiskari, is less than a 10 minute walk from the guesthouse. Both beaches have clear water and are very safe for children. The port of Korissia is pedestrian only in the evening where there are tavernas, cafes, bakeries, food markets and a couple of bars.
Getting to Kea only takes one hour from the port of Lavrio which is quite close to the Athens International Airport. We will send you details about getting here as well as current ferry boat schedules when you reserve a place at our guesthouse. It is possible to rent one floor separately of a guesthouse when available. We suggest you rent a car for part of your stay in Kea (we can help you with this) as there are many spectacular beaches and hikes to explore.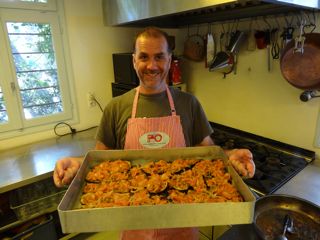 Kostis Maroulis moved to Tzia (Kea) in 1998 after spending many years away from his native Greece. He has a keen interest in botany, classics, archeology and bee keeping. Tzia and his grandfather's summer property provided the perfect setting for the full scale agro-tourism projects he had envisioned whilst studying in the US, France, England and Russia. Since moving to Tzia, Kostis has planted 2 small vineyards, learned to play the bouzouki, cultivated rare plants collected on his walking tours, built Soultana - a traditional wooden boat with lateen sail, and much more. The European Union encouraged his efforts to promote agriculturally sensitive tourism by awarding him a grant in 2006. Kostis is also a terrific cook.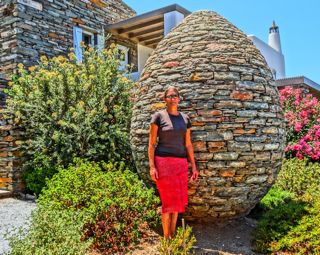 Marcie Mayer is a native Californian and has been living in Greece since 1984. She was a restauranteur, interior designer and Art teacher in Athens. After many summers spent in Tzia she moved there permanently with her daughter and married Kostis in 2005. Marcie designs the Red Tractor Farm labels and website. She has begun researching organic gardening methods and will soon be able to provide the family and friends with year round home grown produce. In her spare time she paints, sculpts and makes mosaics - all incorporated into Red Tractor Farm seminars that include guest artists. Marcie enjoys working with children and regularly schedules weekend Art Workshops for kids. She is shown posting in front of the giant egg Kostis gave her for her birthday.
Please feel free to ask any questions you may have by using the form below!
Marcie & Kostis
Double room with veranda - E60 - E90/night
Studio (open living area, fireplace, double bed + couch that converts to single, kitchenette)
with veranda and private garden with shady outdoor seating area - E90 - E120/night
Stone Cottage & Big Fish (our largest Studios) - E100 - E150/night
Prices include daily housekeeping and high speed Internet access.
We do not serve breakfast but shops and bakeries are 5 minute walk